Quest Library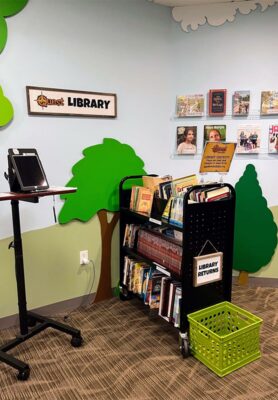 The Quest Library seeks to encourage and support families in all stages of their Christian discipleship. While it is geared towards children and parents, it is a resource open to all attendees of Reston Bible Church.
Resources include:
Toddler & Preschool picture books
Grade school chapter books
Missionary biographies
Bible study guides and family devotionals
Parenting resources
Magazines
DVD's and audio books
To apply for a library card, please email aliciamiller@restonbible.org.
The Quest Library is located inside of the children's area, across from the Quest Desk. It is not located in the RBC Bookstore.
We are excited to offer an online catalog for browsing resources. Patrons are able to search for titles, read resource summaries, place holds and extend checkouts.
For access to the online library, you must first request a library card (see above). Once you receive a confirmation email, the library can be accessed using the button below.
Access online library
Checkout Instructions (online and iPad)