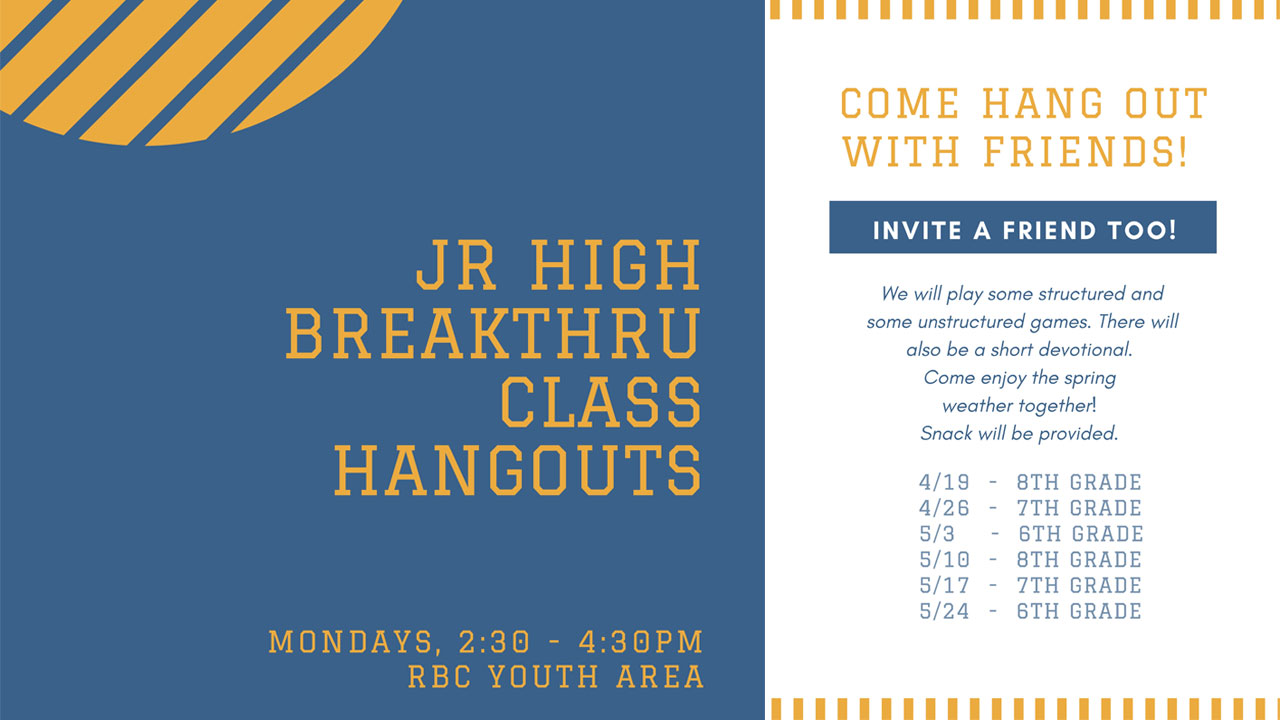 The regular rhythm of Jr. High ministry includes:
Outdoor Combined Youth Service – Sundays at 10:45 a.m.: Resuming Sunday, April 11, the Jr. and Sr. High will hold a combined outdoor service, each Sunday concurrently with the 10:45 a.m. main service. It will look a little different than it did last summer, where we will be moving tables and chairs into the youth parking lot for a time of worship, games, conversations, and teaching from God's Word. In April and May, we will be studying 1st John. In the event of rain, we will move inside to the Jr. and Sr. High Rooms, following RBC's COVID protocols.
Small Groups: Our small groups continue every Wednesday night from 7-9pm at RBC and virtually. Please note the following:
Location: Small Groups will be outside weather permitting. If we move inside, Jr. High Guys should be dropped off at the Youth Building, and Jr. High Girls at the Quest Area. This will allow us to properly spread out and practice social distancing. We will probably be outside in cooler than typical weather, so please dress accordingly.
Masks: Face masks are required inside RBC. We will have extra disposable masks, but students are encouraged to bring one.
Registration: A one-time registration is required for all students. When you register, you may select in-person, virtual, or hybrid attendance. Click here to register
Virtual Groups: If you select virtual or hybrid groups during registration, you will receive instructions for how to connect virtually. Our goal is to keep students in their same groups, not create separate groups of just virtual students.
Weekly Reading: We are now in a series on Acts and God's Power on Mission. We ask that students come prepared to discuss God's Word each week. Students should have read the following passages and meditated on or memorized the following verses:
March 24 | Read Acts 15:36-18:22 – Memorize Acts 16:25
NOTE No Small Groups on Mar 31 for Spring Break
April 7 | Read Acts 18:23-21:14 – Memorize Philippians 1:21
April 14 | Read Acts 21:15-26:32 – Memorize Acts 26:29
April 21 | Read Acts 27-28 – Memorize Acts 28:30-31
Our Heart: Below is a video that explains the heart for our youth ministry when we reopened last Fall. While some of the details of ministry events have changed, our heart for our students to gather in community around God's Word remains the same.
If you have additional questions about Small Groups or the safety precautions followed, please contact aaronosborne@restonbible.org.
The junior high ministry at Reston Bible Church, BreakThru, is a place where you will have fun and be cared about, encouraged, and radically challenged.
If you're in 6th, 7th, or 8th grade, we would love for you to come join us. We will meet at 9:00 and 10:45 a.m. on Sunday mornings in the RBC Youth Building.
The junior high ministry at Reston Bible Church, BreakThru, is a place where you will have fun and be cared about, encouraged, and radically challenged.
Our vision for BreakThru comes from Matthew 7:24-27, where Jesus says that anyone who Listens to His words and Acts upon them is like a man who Builds his house upon the rock. That house stands firm even when the winds and the rain come and slam against the house, because it has a solid foundation.
But just like laying the foundation for RBC's new facility was hard work, laying a solid foundation in our lives is not an easy task. You have to cut down all the trees and brush. You have to dig down through the loose top soil. You have to BreakThru rocks and boulders in the way, until you can lay a level foundation on solid ground. In the same way, we want the Jr. Highers at RBC to Listen to the Word and begin to Act upon it, and in this process, Build a solid foundation for their lives on God's Word and His Wisdom. We want Jr. High not only to be a time when teens are BreakingThru from a child to an adult, but also a time where they are BreakingThru in their understanding of God and application of His Word to their lives.
BreakThru | Sundays at 9:00 and 10:45 a.m. | Jr. High Room | On Sundays we fellowship over doughnuts, worship through singing, connect over games, and teach specifically for Jr. Highers.
Small Groups | Wednesdays 7:00 to 9:00 p.m. | Jr. High Room | Our small groups are designed to help Jr. Highers study and apply the Bible within community. We have snacks, games, and fun for the first hour, and split into same gender small groups for Bible study during the second hour.
Friday Night Live | Monthly | These events are designed to be fun environments where you could easily bring a friend. They only happen once a month, so don't miss the next one. See the latest calendar for details.
Special Events | First Fruits (Service project in November), Winter Retreat (President's Day weekend), Summer Camp.