RBC is the way it is today in large part because of its origins and the many people who have called this place home over the years.
Humble Beginnings
It all began with a simple phone call and a step into the unknown. In the spring of 1974, a businessman contacted Florida Bible College, hoping to attract a graduate to Northern Virginia. He wanted to plant a church near his family in Reston. Weeks later, newlyweds Mike and Kay Minter left Florida for Reston with their belongings packed in a small moving truck. As they drove westward along Route 7 from the Tysons Corner area, they were greeted by cornfields, quiet single-lane roads, and one stoplight in Reston. Who could guess what God would do through them and around them in this sleepy, remote community?
Built on Sharing Christ
Despite the unknowns, Mike and Kay both sensed the Lord's direction. Kay recalls, "When you're so young, you don't think about finances as much. We came with a sense of adventure; we really didn't have any fear. Maybe it was presumptuous of me, but I can remember thinking, 'My home will be established here. My children will be born here. Our ministry will be here.' We had a real sense of peace."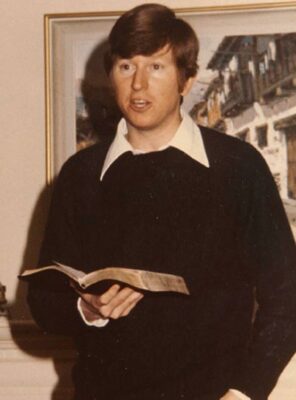 They found an apartment, and Mike landed a job at the Reston Golf and Country Club (now named Hidden Creek Country Club). He worked as a locker room attendant for $6,000 a year and ran a shoe-shining concession for extra income. Mike's job at the country club was God's perfect spot for him.
As Mike doled out towels and shined golf shoes, he quietly yet quickly reached out to his colleagues. He tried to have lunch with a different person every day, inviting them to attend a Bible study he wanted to start. "I learned real fast how to address people's fears about doing something unfamiliar. I assured them as I invited them to this study that they wouldn't be put on the spot. They wouldn't have to read the Bible out loud or pray out loud. And I told them if they would come just once, I wouldn't ask them to come again."
By late June 1974, they held the first Bible study in Reston. Eight to ten people attended, and Mike spoke on the authority of the Bible. One of those who came—the manager of the country club—trusted Christ the following morning. The club's athletic director made the same decision the next week.
"As those folks—the club's manager, the athletic director, the chef, a golf pro, and some lifeguards—came to know the Lord," Mike recalls, "they would invite other people to the Bible study." This word-of-mouth process established the initial roots of Reston Bible Church. At its core, RBC was founded by personal evangelism, and our desire is that each saint at RBC is active in sharing their faith with the people God puts in their lives. By late 1974, the study group had grown to 25 people.
In March of 1975, Reston Bible Church held its first worship service. About 25 people attended, gathering in Room "G" of the Sheraton Hotel in Reston, something Pastor Mike would forever remember. "I'll never forget that first service. One guy played guitar, Kay sang 'Amazing Grace,' and I preached on John 3:16."
"For God so loved the world, that He gave His only Son, that whoever believes in Him should not perish but have eternal life." John 3:16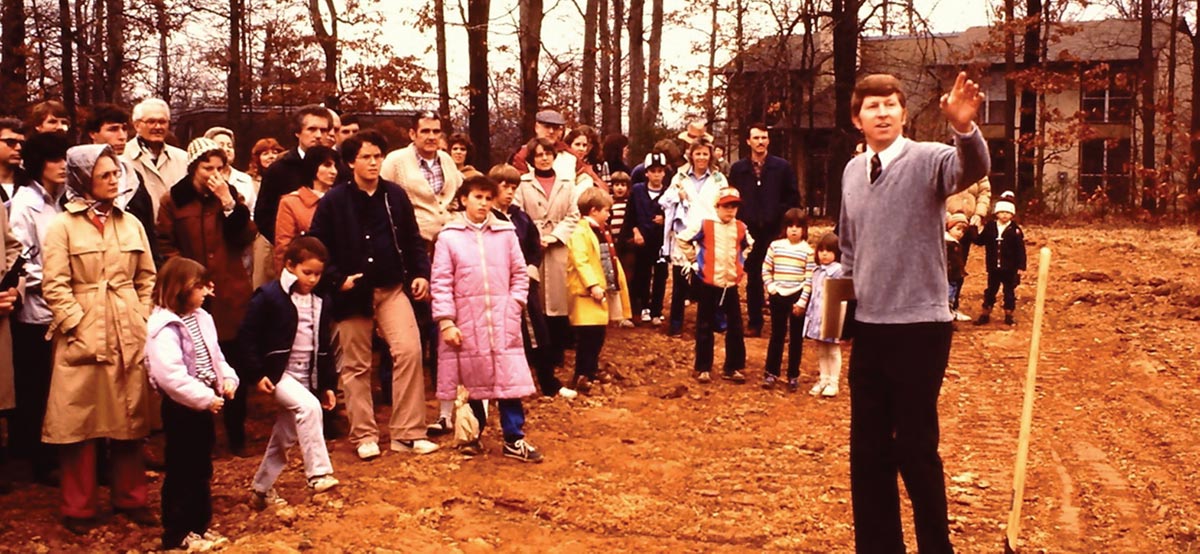 Children, Youth, and Family
By September 1975, the congregation had grown to about 100 people. The new congregation was predominated by families with children, a reflection of Reston's demographics.
By early 1976, RBC had hired a youth pastor, and Sunday school classes began in 1977, once RBC had moved into a larger space in Reston's International Center. About 30 children between ages five and twelve initially attended junior church. Kay Minter led the way during the first days of RBC's nursery program. By late 1977, the church began outgrowing its space at the International Center. This led to a succession of moves into new and increasingly larger schools in Reston. God's miraculous hand was at work again—as soon as the congregation overcrowded one facility, another school was opened and ready for RBC to rent:
Forest Edge Elementary (late 1977-78)
Terraset Elementary (1978-79)
South Lakes High School (1979-84)
According to one early attender, "Everyone participated back then. Everyone had a job in order for the church to function. Church was an all-day event. By the time you attended service, helped with the setup and breakdown, and ate lunch, it was time for the Sunday evening service. We truly were family."
From the earliest days of RBC, children, youth, and family ministry were a high priority focus, as they continue to be now, with more than 700 children and youth gathering for worship together each week.
A Heart for World Missions
While at Forest Edge, the children's program started selecting missionaries to pray for each month, as well as to send their weekly missionary offering. Little did we know that such a simple beginning would grow into a strong, worldwide missionary interest and outreach.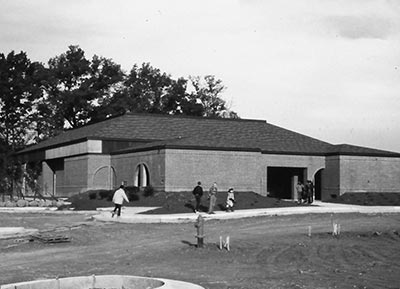 RBC's focus on missions began quietly and modestly. As the junior church classes established prayer and offering support for assorted missionaries, Mike and others in the adult congregation mulled over what the church's role in international missions should be. A local pastor strongly encouraged Mike to start some kind of missions program, and during 1978, RBC selected a five-man committee and formed a missions policy. "I have learned that, if you keep missions as a top priority, God will bless your church," Mike says.
The mission budget during that first year was $5,000. In 2021 RBC supported more than 240 missionaries in 58 nations with a total budget of $1.5 million, and many, many short-term missionary teams are sent out to support these missionaries annually.
Community of Giving
Construction of the first fixed facility, on North Shore Drive in Reston, began on March 1, 1983. The building project was a total team effort by the RBC body. People participated through unceasing prayer, encouragement of the church's leadership and the building contractors, and sacrificial giving of their time, talents, and resources. For example, rotating volunteer crews (they called them "work parties"), assisted in hammering nails, painting walls, sweeping up debris, shoveling dirt around the property, and other tasks.
"It was the closest thing to Nehemiah and the building of the wall," says Sandy Varney. "It didn't matter what role you played—every person's job was valued toward the completion of the building."
On May 27, 1984, Reston Bible Church held its first service in the new facility. During the dedication ceremony, Mike Minter addressed the congregation: "I want to dedicate this facility to God, for the purpose of God's glory, for the purpose of equipping the saints to do the work of the ministry, for the purpose of making this a temple of praise and prayer, and for the purpose of reaching this world for Christ."
Faithful to the Scriptures
By the early 1990s, attendance at two worship services averaged a total of about 800 people; by 1999, those attending three services had mushroomed to nearly 2,000. That's not to say that RBC's leadership has actively pursued growth in numbers. As in the early days, Mike has led the church by sticking to Bible-based teaching. "It's always the power of the gospel," he stated in July 1999. "It's not Mike Minter, the Elder Board here, or anyone else who changes lives. … There's no human explanation for the things we do here. God simply says, 'I will build My church.'"
Small Group Fellowship
In 1994, another significant part of RBC's DNA was formed as Pastor Minter was studying the differences between many contemporary churches in the United States and the first churches described in the Bible. He asked, "What has happened to the church of Jesus Christ? We've lost it. We are just big. We've got a lot of people coming out, but I don't know all these people and we don't know each other that well; people are getting lost in the shuffle."
After taking this burden to the staff and the elders, the decision was made to place greater emphasis on helping people organize into small groups for worship, biblical instruction, and fellowship. What we know today at RBC as "Shepherd Groups" were born. Leaders were identified and a handful of Shepherd Groups took root. Today, almost 100 RBC Shepherd Groups meet throughout the week around our region, and that number continues to grow.
Community Impact
From the very beginning, RBC was rooted in being a light for Jesus in our community. This has been expressed through personal evangelism as well as ministries of compassion for our neighbors. Such ministries as our food pantry and community garden, Spanish language worship services and studies, free English as a second language classes, free legal clinic, adoption of a local elementary school, and so many more, are all a reflection of this desire to "go" to our neighbors with the good news of Jesus in practical ways. One annual outreach called First Fruits now engages more than 700 volunteers and raises more than $40,000 to help feed local families in need and provides scholarships to local high school seniors.
After outgrowing the building in Reston, RBC chose its current location in Dulles, Virginia, and in 2010 the Oakbrook Court facility opened to become RBC's new base of operations. The move only served to give RBC greater opportunities to bless our new community.
In 2021, after nearly fifty years of ministry service, Pastor Minter became pastor emeritus of Reston Bible Church, and in 2022, Pastor Jim Supp was installed as our senior teaching pastor.
This is the RBC family history in a nutshell. We gather in worship, we grow in the knowledge of Christ together, we give of ourselves to one another and the community, we go and share the good news of Jesus, and we do it all with the ultimate goal of God's glory, of making Christ known here in Northern Virginia and around the world. We are so thankful to welcome you into all that God is doing at RBC.