From the Field: Mae Phae, Thailand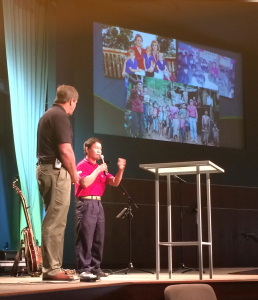 Last weekend, the RBC congregation was blessed to receive a missions report from Scott McManigle, a former RBC missionary who now serves as the associate missions pastor at Faith Bible Church. Scott, along with his wife Annette and their children, spent eighteen years in northern Thailand. Through their service, the Lord used them to plant a church among the Pwo Karen tribe in a village called Mae Phae.  Three Pwo Karen church leaders joined Scott last Sunday in praising the Lord for RBC's support and involvement in sending the gospel of Christ to their tribe.
"Thank you for sending us a missionary. Thank you for sending the gospel. God has saved us from worshiping the spirits; He has saved us from the deceit of Satan through His son, Jesus."
We praise God for the fruit He is bearing through the faithful proclamation of the gospel in Northern Thailand.   Since the McManigles left Thailand in 2006, the church in Mae Phae has continued to grow and the Pwo Karen believers are teaching the gospel in other tribes around their area.
Please continue to pray for gospel to go forth in the Mae Phae village and to other villages throughout the region. Pray that many  Pwo Karen tribesmen would come to saving faith in Jesus and that the church there would be a great light for the glory of God. To learn more about the church in Mae Phae and the Pwo Karen people, check out the video below.

(Video credit: Fellowship Bible Church)