Conversations Volunteer Needs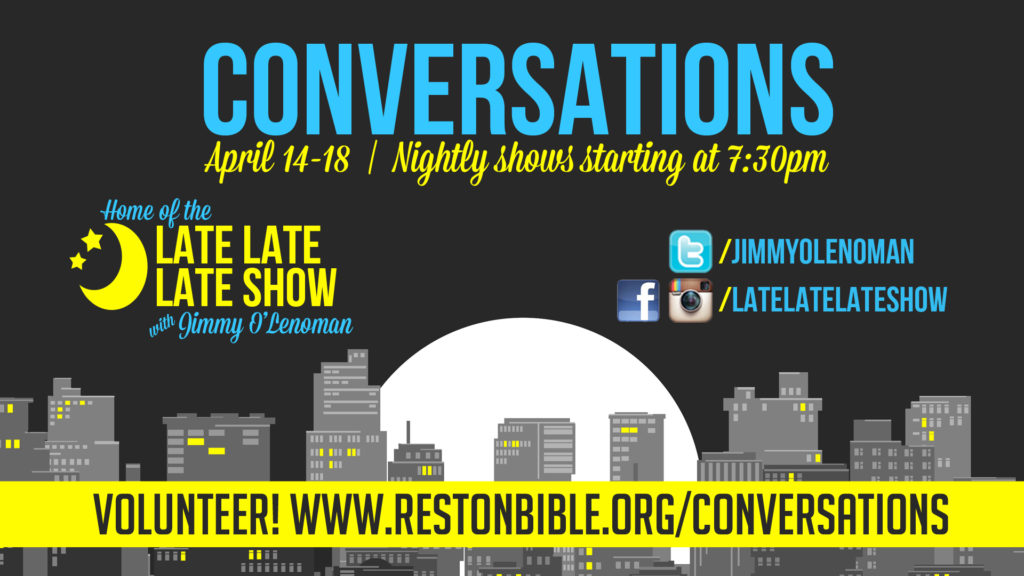 Conversations starts on Monday and we hope you are planning to bring your friends, co-workers & neighbors to this year's production.  Plenty of invitation cards will be available this weekend, so please grab a few when you are at services this Sunday.
We still need many volunteers to help make this event a success.  Our greatest needs are:
CHILDCARE:  We need 25 more people willing to work in childcare so the parents can go enjoy the show.  You can work one evening or multiple evenings.  A background check is required if this is your first time serving with our Children's Ministry.  To serve, e-mail Joan Lastova.  Please indicate what evening(s) you are available to serve, and what age group you prefer working with (nursery, preschool, grade school).
BAKERS:  We need 40 more people who would each be willing to bake 8 dozen cookies or brownies.  All goodies are to be delivered to the church by noon on your appointed drop-off day.  You can deliver your goodies to the church on your way to work if necessary – we will have a table outside the main doors.  If you are delivering after 8:00 am, please drop off your goodies on the tables set up just inside the Lobby doors.  You may also drop off the night before (for example if you are serving in the Coffee Shop on Monday and your day to bake is Tuesday, you can bring your baked goods Monday night. To sign up to bake, click here.
MEALS FOR CAST AND CREW:  Most of our Conversations cast and tech crew come directly from work to serve.  Please consider blessing these volunteers by signing up to provide one or more food items for meals during Conversations week.  To help, please click here and choose the date that is most convenient for you and to see the list of food items needed. You will be contacted with additional information as to when and where to drop off your food items.
That's it.  With your help, next week will richly bless many thousands of people by clearly sharing the good news of the gospel in a creative & contemporary way.  To God be the honor and glory!
Dale Peak
Administrator