The Chosen – Season 3 Premiere
November 25, 2022 | 6:30 pm

-

9:00 pm
Reston Bible Church
Ministry:
Event Navigation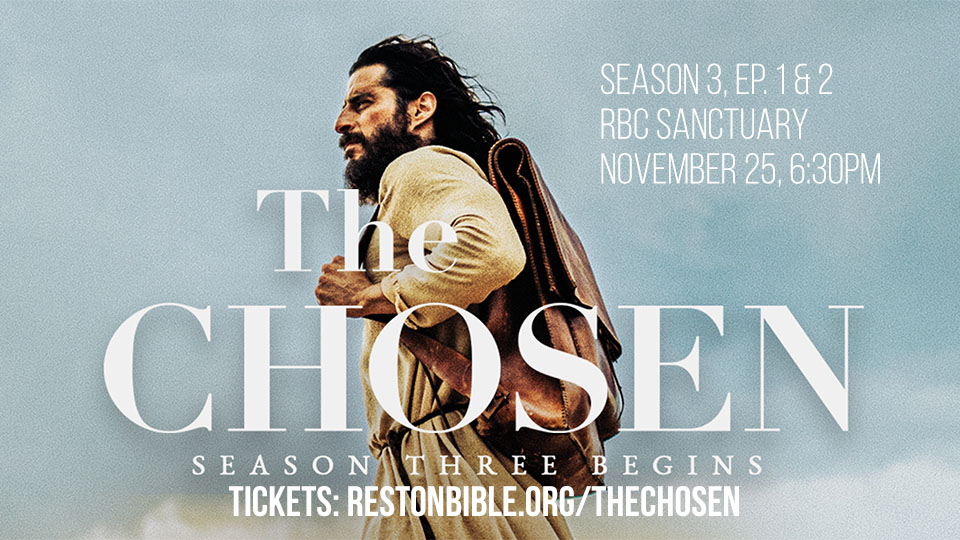 On Friday, November 25th at 6:30pm RBC will show Season 3, episodes 1 and 2 of THE CHOSEN in the sanctuary.
Tickets are $5.00 per person and may be purchased at the link below. Children 3 and under do not need a ticket. Max total cost per family is $20 (i.e., a family of 6 may all attend, but only need to purchase 4 tickets.)
Please consider inviting neighbors or friends who do not know Jesus Christ. RBC will cover the cost of the first 100 of these invitations! This is an excellent opportunity to reach out to friends and neighbors as together we pray and grow in engaging those around us.
CLICK HERE FOR TICKETS
The confirmation email you receive after purchasing tickets online will serve at your ticket(s)—please print or show the confirmation on your mobile device at the door the night of the event. Tickets will also be available at the door that evening. Additional event info:
Doors will open at 6:15pm.
No nursery provided.
Only water is allowed in sanctuary.
If you are able to come early and/or stay after to help (ticketing, setup, clean-up, etc.) please check the box to indicate so on the online ticket form above.
While obviously helpful, viewing the first two seasons is not necessary before watching season 3. Seasons 1 & 2 are available on Amazon Prime or via The Chosen app available in the Apple or Android app stores (search "The Chosen".)
About THE CHOSEN:
The Chosen is the first-ever multi-season series about the life and ministry of Jesus Christ based on the true stories of the gospels. The series revolves around Jesus and the different people who met and followed Him. It focuses more deeply on the people who encountered Jesus and to show Jesus "through the eyes of those who met Him" in a way that is more "personal, intimate, and immediate."
Some locations and timelines have been combined or condensed. Backstories and some characters or dialogue have been added. However, all biblical and historical context and any artistic imagination are designed to support the truth and intention of the Scriptures. Viewers are encouraged to read the gospels. By May of this year, The Chosen topped over 400,000,000 million views, in 180 countries and has been translated into 50 languages.