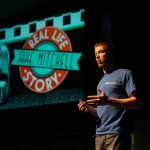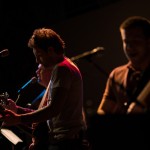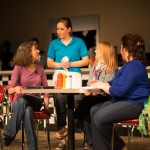 Last week, the RBC Sanctuary was transformed into Fast Eddie's, a funky old diner, for the annual production of Conversations.
At Fast Eddie's, families came on their way to the "best Spring Break trip of their lives," infomercials from the infamous Kevin Winthrop, memories of lives spent together, and a community college study group.  We were serenaded by the music of Philip Phillips, Coldplay, Gabe Dixon, The Beatles and more… But most importantly, we heard stories of God's grace in real lives.
It was a wonderful week, made possible by the more than 300 volunteers, who provided food, served in the Coffee Shop, ushered, baked cookies, etc.   We are so grateful for everyone who served, whether on stage, in the lobby or behind the scenes. More than 3,000 people attended Conversations this year, many of whom are friends, family, and neighbors of our regular attendees.  Many people were able to come, relax, and hear the truth of the Gospel message through this production! We've been encouraged by the many stories of how God enabled people to attend, is softening hearts, furthering the conversation, and working in our community as a result of this production and the faithfulness of our body to invite their friends.
Just before our final performance, we received an email from someone who first attended Conversations two years ago. They wrote, "I have attended Conversations each year since (including last night).  I really wanted you to know that you do have an impact on people.  I don't know if you hear from many people who you have been involved helping start a relationship with Christ, or wonder if you have reached people – You have!  I'm living proof."
We give thanks to our gracious God for what He has done – and may do still – through this production. Do you have a story to tell from your experience at Conversations? We'd love to hear it – drop us a line at stories@restonbible.org.
Remember the elevator scene from Conversations 2012?  Conversations 2013 saw the return of the infamous Kevin Winthrop.
Thanks to Mike Kelly for the photos above. You can check out more shots from Conversations by Mike here.