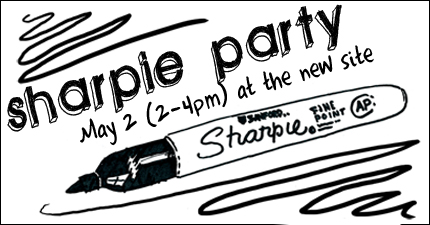 After many years of praying and planning, Sunday, May 2nd was the first church-wide event at the new building. RBCers were invited to tour our new buildings then grab a sharpie and leave messages of gratitude to the Lord and thanks for the construction workers on the cement floors of our new church home.
Underneath the carpet and tiles of the floors of our church are now written many verses, prayers of petition and thanksgiving to God for His blessings to us.
Walking around the building, you could almost feel the pleasure of the Lord while reading the graffiti-laid floors as children and adults alike wrote notes of thanks to the faithful men who are working so hard to build this building.  Prayers for guests, the leadership, the congregation, and all who will enter through the doors of RBC were written everywhere, often in significant places throughout the building.  Verses of thanksgiving, requests for wisdom, commands, and the Gospel mark the floors of our building as prayers for RBC and reminders of what God has called us to at Reston Bible Church.

The Sharpie Party was a great joy as our congregation united together to celebrate what God has done and will do in this place.