Dear RBC Family,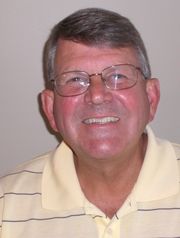 We have some very difficult news to share with you. As most of you likely know, Bill Hurley, our Missions Director here at RBC, unexpectedly disappeared about a month ago. It was discovered yesterday that Bill died of a self-inflicted gunshot wound while apparently on his way back to Virginia. We have no idea what drove Bill to do this, and we don't have any other details at this time.
Pastor Mike and Kay have been ministering to his wife, Cheryl, and the family. Many of you who love Bill and his family may wonder what you can do to help at this time. Here are some ideas of what you can do for now:
WEEP: Sorrow in itself is not sin. Though he was perfectly sinless, Jesus wept and felt sorrow and grief. Paul wrote in Romans 12:15 that we should "rejoice with those who rejoice, weep with those who weep." Weeping and feeling the sorrow of such tragic events aligns our hearts with all who feel the sting of this loss. More importantly, our weeping should ultimately align us with the heart of God, who is the "Father of mercies and God of all comfort, who comforts us in all our affliction, so that we may be able to comfort those who are in any affliction, with the comfort with which we ourselves are comforted by God" (2 Corinthians 1:3-5).
PRAY: Sorrow in this world is meant to push us into the arms of our Savior, and prayer is one of the greatest means we have of experiencing His embrace. Let our grief lead us to our great Comforter, "that we may receive mercy and find grace to help in time of need" (Hebrews 4:16). Here are some specific ways you can pray: Please pray for Cheryl and their children as they grieve – pray that God would be their refuge and fortress in time of need. Please pray for our local staff and missions committee, as we are hit hard by the loss of someone we worked with and loved very much. Please pray also for our extended staff, hundreds of missionaries all around the globe, many of whom have worked side-by-side with Bill and Cheryl over the past thirty years.
REJOICE: What a strange command from scripture, that in trials and sorrow we should also rejoice:  "In this you rejoice, though now for a little while, as was necessary, you have been grieved by various trials" (1 Peter 1:6). We can rejoice because Jesus is our "living hope" (1 Peter 1:3), and because of Him, we do not grieve as those "who have no hope" (1 Thessalonians 4:13). To rejoice in sorrow as a Christ-follower is not insanity or denial of the reality around us. Rather, as we "rejoice in hope of the glory of God" (Romans 5:2), we look forward to that day when Jesus will wipe every tear from our eyes and there will be no more death or sorrow or crying or pain (Revelation 21:4). We rejoice because our God is greater than our sorrow, anger or confusion. We rejoice because He is good, and He will set all things right at His appointed time.
Bill was a dear friend and a co-laborer in the Gospel – we know his absence will be felt keenly by many. Please pray for Pastor Mike as he ministers to the family and for our services this weekend, that they would glorify God and honor Bill's memory. We will let you know when Bill's memorial service will be held as soon as those plans are made. Until then, weep, pray and rejoice.
UPDATE: Memorial Service Information
We are deeply grateful for the outpouring of prayers and sympathy from so many who knew and loved Bill. A memorial service to celebrate the life of Bill Hurley will be held at Reston Bible Church on Tuesday, August 18 at 10:30am EDT. A reception will follow the service. In lieu of flowers, condolences to the family may be made in the form of donations to the Reston Bible Church Missions Fund. Letters of sympathy and encouragement to the family may be sent to:
The Hurley Family
c/o Reston Bible Church
45650 Oakbrook Court
Dulles, VA 20166
**For our extended missionary staff as well as friends and missions agencies in the U.S. and around the globe who are not able to attend, we will provide live streaming video of Bill's memorial service here.