UPDATED: Prayer for Bill Hurley
Dear RBC Family,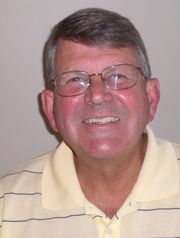 We want to let you know that our Missions Director, Bill Hurley, unexpectedly disappeared on July 19. We know very little about the circumstances of his disappearance. Below is a recent statement from his son, Billy Hurley III:
Last Sunday, nine days ago, my dad took some clothes, he took some cash, he got in his truck and drove away and no one has heard from him since. So he's been gone about nine days, I guess. No one really knows why. It's complete speculation as to why he left.

He's been married to my mom for 30-plus years. You know, they still live in the house that I grew up in in Leesburg and I'm just hoping that there's a story – that maybe he goes to pgatour.com to check my tee time or check my score and sees this and understands that dad, we love you and we want you to come home.
We would ask you to please be in prayer for Bill's safe return and for his family as they await news of his whereabouts. We will post any updates here as they become available.
– – –
7/28 – Here is a missing persons bulletin from the Leesburg Police Department asking for public assistance in locating Bill.
7/31 – According to the LCPD and other reports, Bill was located safe and sound this afternoon in Texas after someone recognized him and contacted local authorities, who confirmed his identity. We are thankful to God that Bill is safe, but we do not have any further details at this time. We would ask that you avoid speculation and please continue to be in prayer for him and his family.
8/2 – Our Executive Pastor, Ed Nalle, gave a brief update on Bill to our congregation and we spent some time in prayer together for Bill and his family. If you missed services this weekend, you can watch the update and prayer below.

8/7 – Pastor Mike is releasing the following video in hopes that Bill will watch it and come home.

8/13 – We have some very difficult news to share with you. As most of you likely know, Bill Hurley, our Missions Director here at RBC, unexpectedly disappeared about a month ago. It was discovered yesterday that Bill died of a self-inflicted gunshot wound while apparently on his way back to Virginia. You can read more here.
8/14 – We are deeply grateful for the outpouring of prayers and sympathy from so many who knew and loved Bill. A memorial service to celebrate the life of Bill Hurley will be held at Reston Bible Church on Tuesday, August 18 at 10:30am EDT. A reception will follow the service. In lieu of flowers, condolences to the family may be made in the form of donations to the Reston Bible Church Missions Fund. Letters of sympathy and encouragement to the family may be sent to:
The Hurley Family
c/o Reston Bible Church
45650 Oakbrook Court
Dulles, VA 20166
For those who cannot attend, we will livestream Bill's service.