Fun, Fun, Fun at Family Fun Night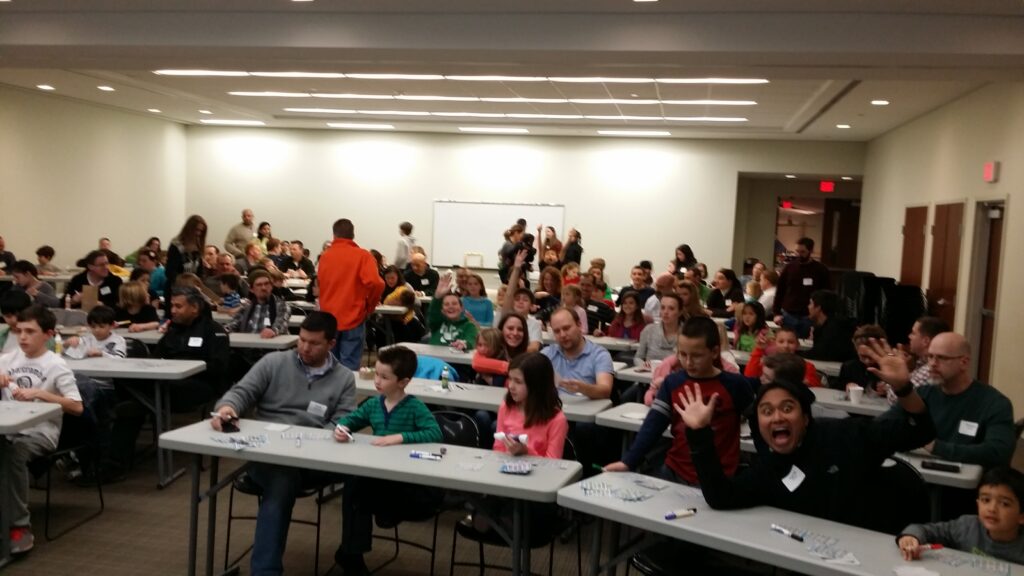 Over the upcoming Spring Break, a missions team (led by Mike Meyers and Jason Goetz) will jet down to Brazil to help host a Vacation Bible School program for up to 200 children of the Terena Indian Tribe. On Friday February 20, the RBC Family-Quest Brazil team hosted a Family Fun Night at Reston Bible Church as a team-building exercise.
About 230 people (55 families!) came out despite record cold temperatures to play games, make crafts, watch movies, and devour pizza, popcorn, and ice cream. The mission team had its first chance to work together on a project, and it was wonderful to hear our younger volunteers ask (after having served for 5 hours), "Is there anything else I can do?" We were also happy to hear people say, "When are you doing this again?"
Special thanks to:
– The Don's Pizza for giving us a great deal on our dinner
– Our volunteers who served alongside of us even though they are not going on the trip
– Our church family for coming out to support us. We hope you had FUN!
If you would like to support the team's mission financially you can do so by clicking HERE (this link will take you to the Open Arms Worldwide website) and then following the instructions at the top of the page.
You can also support the team by eating out at The Jukebox Diner (46900 Community Plaza, Sterling VA, 20164) on  Sunday, March 8th. For the whole day, (breakfast, lunch, or dinner) you can leave your receipt in the jar at the register and 10% of your bill goes to support our mission team!