The update below is from Paul & Faith, RBC-supported missionaries serving with New Tribes Missions. Paul serves at NTM's Training Center and helps oversee their U.S.-based ministries. One of his primary responsibilities is developing a leadership team to cast a vision for mobilizing believers for the task of tribal evangelism and church planting.
– – –
A "new" happening in Bolivia brings an urgent prayer request!  On Tuesday, January 27th through Thursday the 29th  a group of around 30 Ayoré church leaders and their wives will be meeting together in Bolivia.  They come from 10 Ayoré communities where Ayoré Churches exist.  Paul's brother and his wife will be meeting at the Missionary Training Center of Etnos, where they live and minister, for an Ayoré Leaders Conference of Spiritual Refreshment and Teaching.  The facilities are available because the students are gone for "summer break" these days.  Please pray for them as they will be doing the teaching for the 15 hours of meetings and deeply feel the need for Spirit-breathed inspiration, sensitivity and discernment for both the meeting time together and the hours fellowshipping together those three days.  Please pray as well for good weather as it is rainy season and for open receptive hearts for all God has for all of us.
A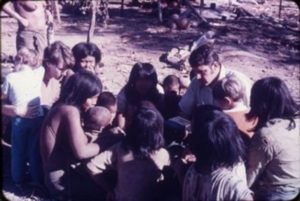 bout 72 years ago, five young missionary men gave their lives in the effort of contacting this very primitive, nomadic indigenous people group — NOW, here they are — all these years later gathering together in the name of Christ!  Was it worth it all?  We LOVED the ten years God allowed us to invest in this work together with YOU who prayed for and supported this work.  Our prayer is that YOUR hearts will be as encouraged as our hearts are as we pray for the continuing work of the Holy Spirit in these precious lives.  God is at work!  Check out this really neat video (below) – It's an interview with some of our current students here at the Missionary Training Center.  You are now investing in the training of these young people who will be scattering around the world to spread the gospel!
Thank you so VERY much for your financial support and for your faithful, faithful prayers for us!  We are so very humbled by God's amazing grace and faithfulness in our lives!  We pray God's ABUNDANT grace and blessings for you in this "new" year and that you will enjoy sweet fellowship with Him!
– Paul & Faith, New Tribes Mission