From the Field: Special Project in Brazil

Eduardo is a Brazilian national supported by Reston Bible Church through the organization Open Arms Worldwide.  He and his wife Claudia work with at-risk children and youth in some very tough neighborhoods as well as in one of Brazil's infamous youth detention facilities sharing the gospel and helping lead young people to the narrow path that leads to life.
Eduardo wasn't always a missionary though.  When he first came to Open Arms as a volunteer at the age of 17, he had just finished serving a year-and-a-half prison sentence for assault, theft, and drug offenses.  Today, by God's grace, he has planted four outreach programs for Open Arms and shared his testimony at youth camps and churches across Brazil.
Just like in the U.S., children in Brazil learn and build relationships through activities like sports, arts, and games.  Recently in response to a special request from Eduardo, Reston Bible Church allocated some extra funds for him to purchase new supplies for the ministry that include new educational/strategy games, art supplies, soccer balls (always in short supply), and other sporting equipment.  These items are great for getting a child to sit down and just talk with our missionaries or volunteers.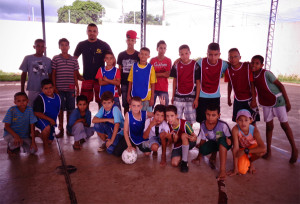 Below is a letter with prayer requests we recently received from Eduardo. Below that is a thank-you video from Open Arms to all who responded and gave to this request!

"I want to share with you some testimonies and also ask for more prayer for our work.  Before that though I want to tell you how much of a difference it has made to have the new material that Reston Bible Church blessed us with.  Please let them know how grateful we are and how blessed the children have been.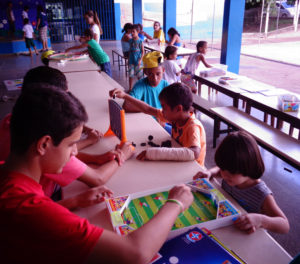 As you know, I have worked with the same group of girls in our soccer ministry in the same neighborhood now for the past 5 years.  I have seen girls who lost their way in lesbianism, others that have stopped playing because they have gotten pregnant, but thanks to God who strengthened me and the counsel that you gave me to never give up, today I am seeing many seeds that we have planted years ago begin to grow.  It is with a heart full of emotion that I am writing that four of our girls that have been with me from the beginning are going to be baptized.  We have been using the community center to do baptism classes with them and on June 29th at a special Sunday service for Open Arms they will be baptized.  At the same service there will be an exposition of art that our kids have produced.  In fact some of the funds that RBC provided were used to purchase canvasses.  Their projects came out beautifully and they will be taking the exposition to other churches as well.  Many of the children from our soccer program are now attending church with us on Sundays as well.  I was so blessed a few weeks back when I couldn't pick them up for church they showed up on their own.  That's a good sign.  Please keep up the prayers."
PRAYER REQUESTS:
Pray that God would protect the girls who are being baptized.  They have all been under attack spiritually since they made that decision.
Pray that God would strengthen and encourage the kids who are going to worship services on foot now.
Pray that our new outreach to the boys via soccer will be bear fruit as it has with the girls.
Pray for me and Claudia, as you know we have only been married a short time and we are having a rough first year at home.  Pastor Tiago has been counseling us and it has been helping a lot.
Pray for my college.  As you know I have an easy time understanding scripture but not so much with other books and I am having a tough time at school.  I remember that you told me not to memorize but to learn.  I am trying but since I skipped a lot of school as a child it is hard for me.
Pray for our health, me and Claudia, because we are working hard and have little time for rest.
Please pray for Emanoel.  I asked for prayer for him some time ago.  He was getting beat up inside.  Well he was released and we went to visit him at home.  He has a drug addiction.  He's only 17.  We were able to get him a spot at CREMOS (a Christian drug rehab home) and we are able continue ministering to him there.