TRAIL GUIDE: Lean Not On Your Own Understanding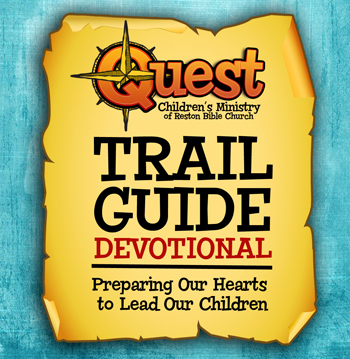 The "Trail Guide" devotional is used by our adult leaders of grade school groups in Quest as a way to prepare their hearts and minds for the topics we will be covering with the children on the weekend.  We have made them available here to help our parents of grade-schoolers engage with their children around the topics we are discussing and also for anyone else that might be blessed by following along.
SOUL SHERPA, LESSON 2: The Holy Spirit is Our Guide
My mother is infamous for her sense of direction.  Or should I say, lack thereof.  She once followed a car for some distance out of her way because "they looked like they knew where they were going."  She has driven almost out of state before realizing she had taken a wrong turn.  Mom was sure she was going in the right direction.  She even thought she had recognized some landmarks.  It took some time but Mom has learned to lean not on her own understanding when it comes to directions.  Nowadays she makes sure she either rides with or follows someone who knows the right path.
How many times have you headed down a path that you were sure was right and wise only to find out that you were on a road to heartache?  When we depend on our human discernment and worldly understanding they will fail us in the end.  "There is a way that seems right to a man, but in the end it leads to death." (Proverbs 14:12)
We can contrast two great men of scripture in this regard. Saul, the first anointed King over Israel, when pressed, did what he discerned to be the wise thing when Samuel was delayed and an attack seemed imminent.  He took it upon himself to sacrifice to the Lord.  It might seem to us, on the face of it, to be an intelligent move.  Samuel hadn't shown up on time, they were in great danger, and they needed God's favor.  But Saul had been told to wait.  He did not inquire of the Lord and he did not trust the command he had been given by the man of God.  He was leaning on his own understanding.  By contrast his successor, King David, inquired of the Lord for almost every big decision he made, with the exception of a few that famously went badly for him.   God has given us a trustworthy spiritual GPS system; his Word and his indwelling Holy Spirit, ever present to guide us.  Inquire of the Lord and He will make your paths straight. He is our trustworthy teacher and guide. This is a promise of God.
Where is the wise person? Where is the teacher of the law? Where is the philosopher of this age? Has not God made foolish the wisdom of the world? – 1 Corinthians 1:20
"Trust and obey, for there's no other way, to be happy in Jesus, but to trust and obey."  -Traditional Hymn

MEDITATING ON THE WORD:

Proverbs 14:12
1 Corinthians 1:20
1 Samuel 13
1 Samuel 23:4