Reston Bible iPhone App Now Available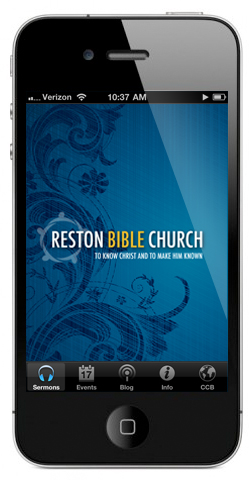 I'm excited to let you know that the Reston Bible Church iPhone app is now available in the iTunes App Store!
If you look at the RBC mission statement, you'll see the who, what, how, and where of our church. Reston Bible Church exists to know Christ and to make Him known. As a local church body, we believe that the primary means God is calling us to accomplish that mission is through biblical preaching/teaching, as well as authentic Christian community. We believe God is calling us to fulfill His purposes specifically in Northern Virginia – our primary location – but also around the world through global missions.
This app supports our church mission statement by expanding our ability to put solid biblical teaching and event opportunities directly into the hands of anyone, anywhere with an iDevice. The RBC app allows users to easily access media and web content optimized for iPhone/iPod Touch and share that content with friends. Specifically, you can use the app to:
Stream audio and video from recent sermons to your device
Check out current RBC happenings and upcoming events
Read the latest blog posts from our staff and leadership
Share sermons, events or blog posts with friends via email
Access myRBC, RBC's online community tool, optimized for iPhone/iPod Touch
Easily email and call the church or get map/directions to RBC from your device
I've written before about why RBC uses social media as a tool for the advancement of the gospel, and I think this app certainly falls into that category. My friends at Mars Hill Church in Seattle point out:
God has often used technological advancement to spread the Gospel through the church. At the time of Paul it was the Roman's system of roads.  For the Reformers it was the printing press. For Billy Graham it was sound amplification systems and stadiums.
Likewise, we live in a country and an age where Internet and cellular technology is generally accessible and widely used. We are blessed to be able to redeem aspects of this technology with the purpose of knowing Christ and making Him known. My hope for this iPhone app is that on your daily commute, walk, or lunch break, you will have further opportunity to know Him and make Him known.
The leadership of RBC is grateful to God that the app was built and developed at no cost to us by an RBCer who volunteered considerable time and talent to make it happen. I'd personally like to thank Dave Smith of Cross Forward Consulting; Dave approached me last fall and offered to develop an app as a gift to RBC. He has been absolutely fantastic in walking us through the development process from beginning to end.  We are deeply thankful to God for Dave's generosity.
The RBC app is available for free at the iTunes App Store here, or you can search for "Reston Bible Church" from within the App Store application on your iPhone, iPad, or iPod Touch. Please download the app, leave comments and ratings, and pass it on others so that more people might come to know Jesus and make Him known.
– – –
UPDATE: So why doesn't RBC have an Android app as well? Since releasing the iPhone app, many folks have asked why we don't also have an Android version. The short answer is that we were able to develop the iPhone app at no cost to the church due to a generous gift of time and talent by an RBCer who develops apps professionally. We would love to develop an Android counterpart, but even simple apps can cost thousands of dollars. If you are an RBCer who develops Android-based apps on a pro level and would be interested in working with us on Android app development for our church, we'd love to hear from you – just email Jason.