Event Update: Minute to Win It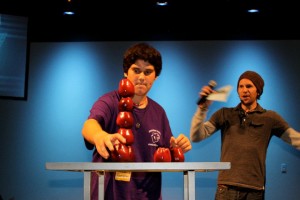 Back in October, the RBC Youth Ministry hosted "Minute to Win It" over the span of two evenings – one geared for junior-highers, the other for senior high students. This event, based off the popular game show, was a big hit with the teens and their invited friends. The game show host was Erik Palmer, who fit his role well. Besides 12 challenging 60-second games, those who attended were treated to pizza, raffle prizes, cash prizes, and powerful testimonies by fellow teens.
As on the TV show, each challenge was created using household items. Everyone had an opportunity to get on stage and win. Over $500 in prizes were given away. Contestants were chosen by raffle, at random, or based on their creative costumes. Do you think you might have had a chance of winning? Try stacking five Red Delicious apples on top of each other in one minute!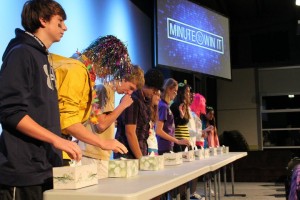 On Friday night, junior-highers got to hear Mason Nalle share his story of going through three open-heart surgeries before the age of 17. Amy Stegeman then shared on Sunday night to the senior highers how she tragically lost several of her siblings and a friend by the time she reached 8th grade. A minute is all it takes for someone to lose their life. Following the testimonies, a pastor shared of God's love and sacrifice and invited the attendees to a relationship with Jesus Christ.
Several students indicated that they accepted Christ as their Savior that night. Praise our God!  Knowing Christ and making Him known to teens is what this youth ministry is all about. Pray for the staff as we follow up with them, and other teens that have expressed interest in knowing more.
Oh, and we're pretty sure Guy Fieri would be proud.  😉
(I have to give credit to Aaron McAndrew for helping me write this blog post. Thanks Aaron! Aaron is a Junior at Briar Woods High School who loves writing. He also is an editor for his school newspaper.)