Resources for Dealing with Suffering


As I prefaced in my message last weekend, the topic of suffering and pain is too massive to cover in a single teaching. I recognize, as well, that even the subject of suffering can be a painful one. Though all people generally suffer, no one suffers in general. That is to say, most of us are acutely aware of exactly what causes pain in our lives. Discussion of the subject of pain in general can bring up very specific hurts.
As we deal with pain in our lives, remember that God is gracious in walking with us through the pain, despite our desire to circumvent it. And although in seasons of suffering we often feel alone and that no one hurts as badly as we do, this simply (and gloriously) is not true. Jesus willingly suffered the greatest pain history will ever know – it is no wonder He cried from the cross, "My God, my God, why have you forsaken me?" (Matt. 27:46) before committing His spirit into the hands of a faithful Father. Many of us have cried the same cry from our crosses, but we too must follow His lead and commit our spirits into those same hands.
Thank God that "we do not have a high priest who is unable to sympathize with our weaknesses… Let us then with confidence draw near to the throne of grace, that we may receive mercy and find grace to help in time of need." (Heb. 4:15,16) Jesus has felt our pain and more, and He is with us always.
I believe much of suffering is a battle for belief. Below are some resources I hope will help you and help you to help others in seasons of suffering.  Again, there are no formulas for dealing with suffering – but my hope is that as you develop your theology on this topic, your faith, hope and trust in Jesus would be strengthened. Each of these books is available in the RBC bookstore – stop by and pick up a copy or two sometime.
– – –
Does Grace Grow Best in Winter? by Ligon Duncan
"The problem with the way many Christians treat suffering is that they simply attempt to put a happy face on trials. A little personal suffering, however, goes a long way in revealing how vacuous careless platitudes can be. The issue of suffering is not to be treated in a cold and pedantic manner. Suffering is real and not something to be handled several steps removed. Yet if we address suffering merely subjectively, without focusing on the objective truths of the Bible, then there is all the reason in the world to despair."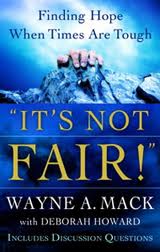 It's Not Fair by Wayne A. Mack
"If we are being honest, we will have to admit that every one of us, in a hundred different ways and for a thousand different reasons, has been guilty of murmuring "It's not fair!" when things don't go as we would like them to. So how do we respond when we, or others who come to us for counsel, are in such a state of despair? In a simple, compassionate, and eminently biblical way, Wayne Mack drives home the point that our only pathway to hope, when times are tough, is in apprehending the character of the just and sovereign God as he has revealed himself in the scriptures."
The Grand Weaver by Ravi Zacharias
"How differently would we live if we believed that every dimension of our lives – from the happy to the tragic to the mundane – were part of a beautiful and purposeful design in which no thread were wrongly woven?  As Christians, we believe that great events such as a death or a birth are guided by the hand of God. Yet we drift into feeling that our daily lives are the product of our own efforts. This book brims with penetrating stories and insights that show us otherwise. Our backgrounds, our disappointments, our triumphs, and our beliefs are all part of the intentional and perfect work of the Grand Weaver."
Suffering: Eternity Makes a  Difference by Paul David Tripp
"How hard it is to see God's goodness in the face of tragedy and suffering! Feeling abandoned, we cry out to him, question him, turn away from him, perhaps even curse him. It may seem like he's cheated us – we've done our part following him, but he's let us down. Hurting people must see their circumstances from an eternal perspective."

How Long, O Lord? by D.A. Carson
"This clear and accessible treatment of key biblical themes related to human suffering and evil is written by one of the most respected evangelical biblical scholars alive today. Carson brings together a close, careful exposition of key biblical passages with helpful pastoral applications."

Suffering & the Sovereignty of God

"In the last few years, 9/11, a tsunami, Hurricane Katrina, and many other tragedies have shown us that the vision of God in today's churches in relation to evil and suffering is often frivolous. Against the overwhelming weight and seriousness of the Bible, many Christians are choosing to become more shallow, more entertainment-oriented, and therefore irrelevant in the face of massive suffering. In Suffering and the Sovereignty of God, contributors John Piper, Joni Eareckson Tada, Steve Saint, Carl Ellis, David Powlison, Dustin Shramek, and Mark Talbot explore the many categories of God's sovereignty as evidenced in his Word. They urge you to look to Christ, even in suffering, to find the greatest confidence, deepest comfort, and sweetest fellowship you have ever known."