Now & Always – New Live Worship Album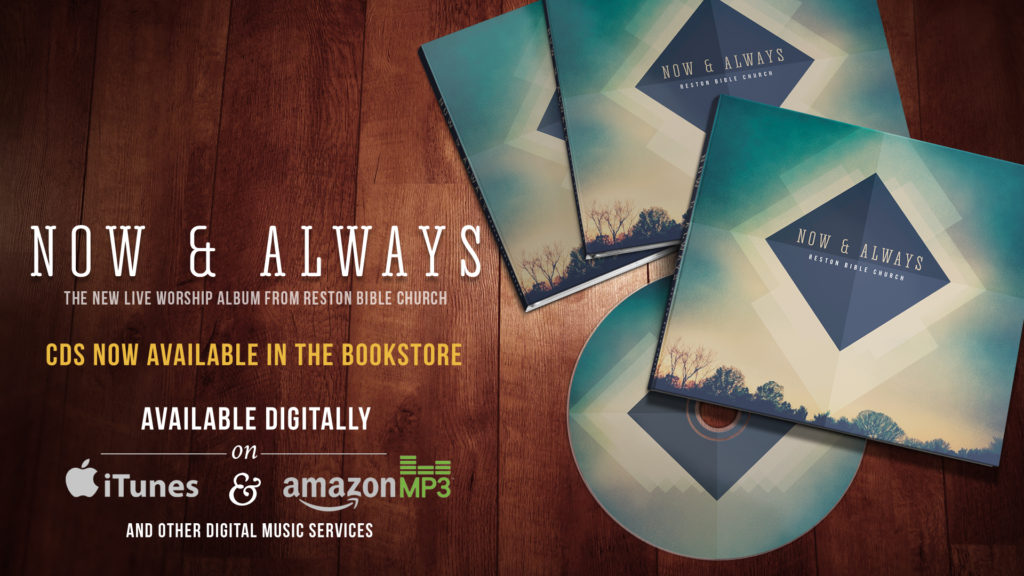 The process of recording this new live project was a great testimony of the Lord continuing to lead us in the leading of His people. God has done great things in our midst over this past year. He has used these eleven songs, in particular, to remind us of the unfailing grace and love He extends to us daily and the glory He is due with every word that escapes our lips.
In compiling the songs that ultimately were recorded for Now & Always, God was clearly weaving them together to unveil some amazing themes that would allow us to go into production with great confidence and joy. These songs have been such a blessing to sing together as a church – with most of them being introduced over the past twelve months. It's such a privilege to look back and see how God has used His powerful Word paired with these powerful melodies and beautiful lyrics to provide a voice for our church to sing with such passionate faith.
The title, Now & Always, comes directly from one of my favorite lines from the fifth track, the hymn Be Thou My Vision – "Riches I heed not nor man's empty praise / Thou mine inheritance, now and always." It's such a great reminder of the nature of our relationship with our Creator – that nothing we gain in this life can even begin to compare to the glorious inheritance of a life spent knowing Him and an eternity spent in His presence.
So many lyrics from this collection of songs point to the truth of this perfectly sustaining existence alongside Christ – both here on this earth (Now) and the promise of Heaven (Always):
Nothing shall be impossible / Your kingdom reigns unstoppable / We'll shout your praise forevermore / Jesus, our God, unstoppable  (I know that you can do all things; no purpose of yours can be thwarted. Job 42:2)

O my God, He will not delay / My refuge and strength always / I will not fear, His promise is true / My God will come through always, always  (The Lord is my rock, my fortress and my deliverer; my God is my rock, in whom I take refuge, my shield and the horn of my salvation, my stronghold. Psalm 18:2)

There's no end to Your love, there's no end to Your love / You're with us, You're with us / There's nothing in this world that could take You away / You're with us, You're with us  (He says, "Be still, and know that I am God; I will be exalted among the nations, I will be exalted in the earth." The Lord Almighty is with us. Psalm 46:10-11)
Our hope through the process of recording this album has always been to simply extend the time we have together on Sundays into the other 167 hours of your week. We hope that these familiar songs with these familiar voices and arrangements will be a blessing to you and provide more opportunities to praise God – either on your own or together with your families.
We are truly thankful for the opportunity to use God's incredible gift of music to reach the hearts of His people. May our worship be full of passion. May it flow freely. And by all means, may it be louder than anything else in our lives. We hope you enjoy it.
– – –
AUDIO CDS: CDs of NOw & always are now available in the rbc bookstore! IF YOU preordered a cd, you can pick them up there.
DIGITAL album: the digital version of Now & Always is now available on iTunes or Amazon Mp3 (click the icons below) as well as a variety of other digital music & streaming services including spotify, Google play, Rhapsody, and iheartradio.