Registration for winter/spring classes is now closed.
Registration is now open to women who regularly attend Reston Bible Church. There are limited spots, so please register early. On the Sunday before the class start date, remaining spaces are open to all women.
Childcare for winter/spring studies is FULL. If you have questions or concerns, please email kareyparrott@restonbible.org. 
Messy Beautiful Friendship by Christine HooverTuesday Evening (Via Zoom)
June 7 – July 12 (6 Weeks)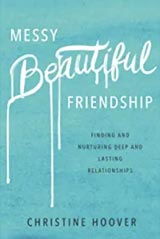 Women long for deep and lasting friendships but often find them challenging to make. The private angst they feel regarding friendship often translates into their own insecurity and isolation. Christine Hoover offers women a fresh, biblical vision for friendship that allows for the messiness of our lives and the realities of our schedules. She shows women:
what's holding them back from developing satisfying friendships

how to make and deepen friendships

how to overcome insecurity, self-imposed isolation, and past hurts

how to embrace the people God has already placed in their lives as potential friends

and how to revel in the beauty and joy of everyday friendship
With stories of real friendships and guidance drawn from Scripture, Messy Beautiful Friendship encourages women to intentionally and purposefully invest in one of the most rewarding relationships God has given us.
Register here