Youth Winter Retreat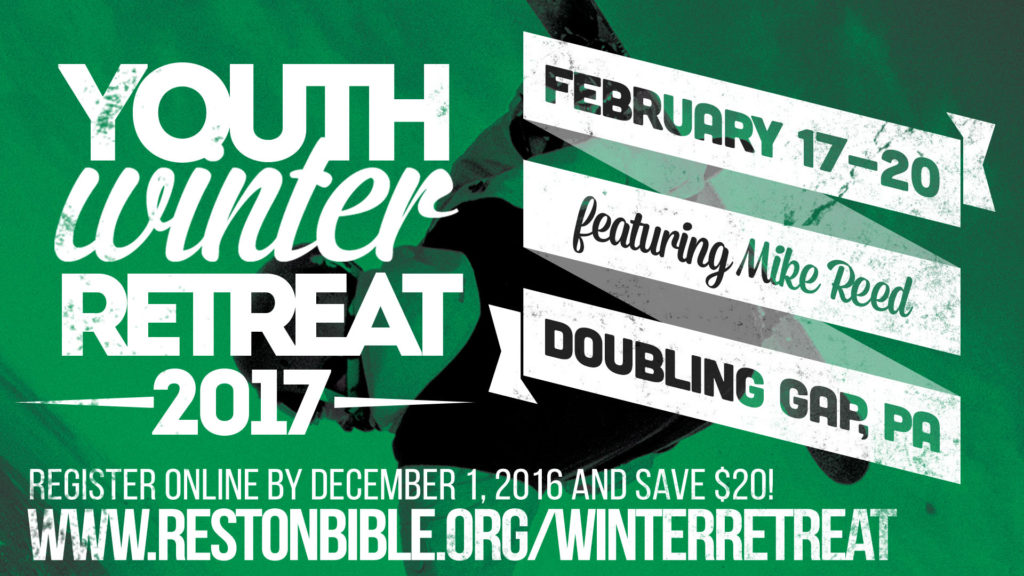 Mike Reed will be the speaker for the 2017 Youth Winter Retreat, which is for Jr. High and Sr. High students (grades 6 through 12).
Register for the retreat
Download the flyer
ABOUT THE SPEAKER
Mike Reed grew up through the youth ministry at RBC and went on to be the youth pastor at McLean Bible Church's Loudoun campus for over six years. He and his wife are currently working on a church planting team in the northeast. Mike comes to us with a Northern Virginia perspective, having grown up here and knowing what teens in this area face, and he presents God's truth to our area's culture in a relevant way.
RETREAT LOCATION: DOUBLING GAP CENTER
Located in Central Pennsylvania, Doubling Gap was originally built as a hotel over 100 years ago. It has since been restored into a Christian retreat center. It sits on a 150-acre campus with great facilities including a gym, game room, tubing, and more. The emergency number is (717) 776-5281. Skiing and snowboarding is close by on Roundtop Mountain.
COST
Register by December 1, 2016: $150
Register by January 15, 2017: $170
Register after January 17: $195
Recreation Options (You will need to select one):
Ski Lift Tickets: $57
Lift Tickets Plus Rental Skis/Snowboard: $81
Indoor Recreation (bowling, roller skating): $15
(Any cancellations after January 15 will forfeit $50 of the registration cost.)
SCHOLARSHIPS
If you would like to apply for a scholarship for this year's Winter Retreat, please indicate that on the registration form. If you have questions, you can email donnapedroni@restonbible.org.