First Fruits 2020 (With COVID Guidelines)
Event Navigation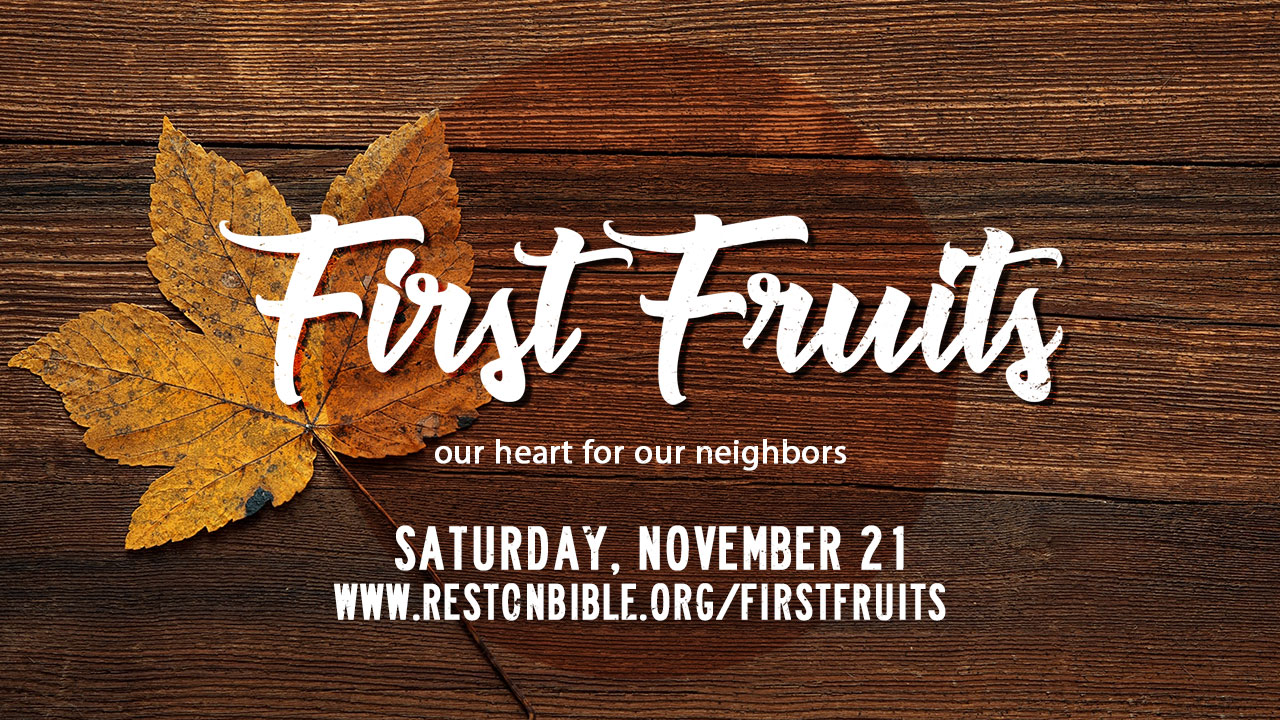 FIRST FRUITS UPDATE: 524 volunteers worked 120+ jobs to raise $39,455 from the day! $9,545 in pure donations were made online. 27 homes were given a months worth of groceries tonight, and more to come in addition to thousands allocated to local high school scholarships. Total raised this year: $49,000. Praise God!!!
WHAT IS "FIRST FRUITS"?
First Fruits is a service project that has rallied the RBC church body for over 30 years. It is a unique serving opportunity for families, shepherd groups, and individuals to come together and make a difference in the lives and families in our area who are in need of help and encouragement. Join us and you will be blessed to see the tangible "fruits" of your labors!
The project mainly consists of two parts:
Teams of youth and adults do work for people in Northern Virginia who give toward the project
The Teams use the money raised to buy groceries and other grocery-type supplies for people within the local community. Each team delivers the groceries and gift cards to the family that evening. Excess funds are used to help others beyond that night. Over the past three years this has included RBC helping 12 students to realize their dream of going to college by awarding Perseverance Scholarships at four local high schools.
WHAT ARE THE COVID-19 GUIDELINES FOR 2020?
This year will be different in the following ways: We will not gather as one big group at the beginning and the end of the project. Teams will be put together primarily in groups that are families or those who have been in ongoing contact with each other. The groups will meet at their job site and use physical distancing as they complete the jobs they are given. Workers will either bring their lunch or buy it at a fast food restaurant. After their last job, the teams will shop for groceries with only two members from their team who will go to one of the three grocery stores we will be working with. Teams will deliver the food to their families by putting groceries at the front door and then speaking to them from their lawn. That will conclude the project for each team. We do hope to host an end of the day Zoom call for all participants to hear news from the day and the amount that their efforts allowed us to raise.
HOW CAN YOU BE INVOLVED?
1. Give us a JOB that we can do for you around your house.
Many ask us to: rake leaves, mulch, garden, clean, simple home projects, or anything you need that we can do! Jobs are for a 2-hour time slot and are taken on a first-come basis until we reach the limit we can accomplish.
Sign up to provide a job
2. VOLUNTEER to be a part of the project.
Our need is great! It takes hundreds of students and adults to continue this project. Individuals, families, shepherd groups and friends are encouraged to join us. Anyone is welcome. The project runs from 8:00 a.m. to approximately 8 p.m. but is well worth the investment of time and energy!
Sign up to volunteer
3. GIVE financially toward the project.
If you can't think of a job we can do for you but want to contribute towards this project—just note "First Fruits" in the memo line of your check or click here to donate online. (This is for those who don't have a job being done at their home. Please change "Designation" to "YM-First Fruits (No Job).")
FOR MORE INFORMATION
For questions about deliveries to families with need, please email, donnapedroni@restonbible.org. For any other questions, please email ashleyramsey@restonbible.org.