Event Update: Trunk-or-Treat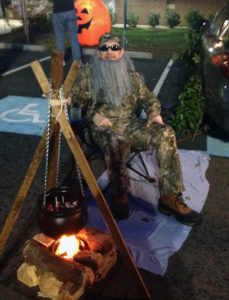 Two years ago, it snowed for Trunk-or-Treat, forcing our event indoors.  Last year, Hurricane Sandy (also known as "Frankenstorm") shut us down completely.  This year, we trusted the weather would cooperate.  While it was challenging to set up with the crazy wind, we tied, taped and bungeed everything down and were ready to go by 6:00pm last Thursday evening. Finally the winds blissfully died down… only for it to begin to rain.
Many thanks to all who didn't let being slightly damp put a damper on the evening.  We had 32 spots filled with decorations, games, and wonderful people in costumes giving out candy to the hundreds of children who came out to trick-or-treat with us.   I have to admit, I had my doubts about how many people would venture out on a windy and rainy night with their kids in costumes – but as usual, the Lord showed me what a waste of time worrying is.  Lots and lots of kids and parents dressed in costumes and ready to spend a safe, fun-filled evening with their family arrived in spite of the off-and-on rain.  After playing games and trick-or-treating, the children were treated to hay rides, candied apples and popcorn, and fun Halloween crafts. Several hundred of our surrounding neighbors and friends from Guilford came out for the fun.
Our parking "spots" were amazingly creative with Alice in Wonderland's Mad Hatter,  Captain America and the Avengers, Batman, aliens, the Pumpkinmobile, a photo booth, and Duck Dynasty – just to name a few.
A HUGE THANKS to everyone that helped – set up, clean up, food, crafts, hayrides and of course the parking spots.  It takes a lot of help to put on an event like this, and we couldn't do it without our wonderful volunteers. I think it's safe to say that everyone went home "Happy, happy, happy!"