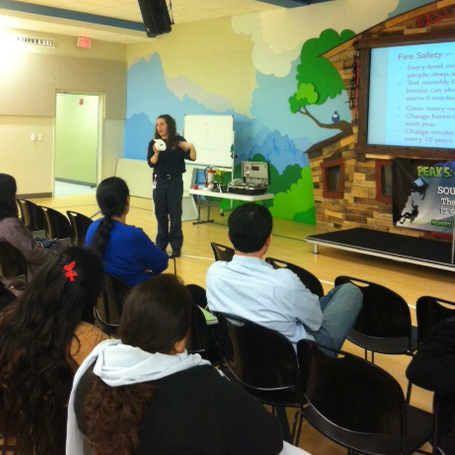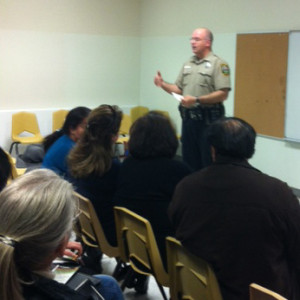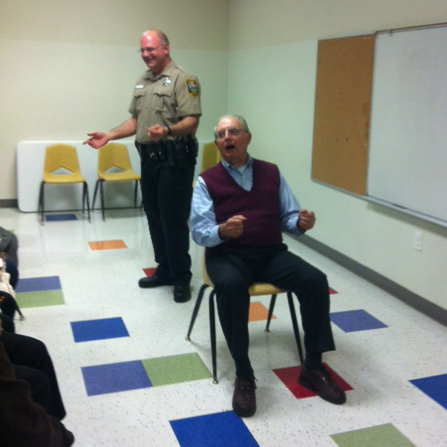 With all that it takes to become comfortable and productive in Northern Virginia culture, it occurred to me that the internationals in our English as a Second Language program would benefit from understanding how to handle emergency situations.  One of our teachers, Ron Colan, has a son who is a deputy with the Loudoun County Sheriff's office.  Deputy Colantonio was only too happy to come in and share basic knowledge with our students.  I also contacted the Loudoun County Fire and Rescue Squad and they sent a very capable public education manager, Lisa Braun, to provide training in all matters having to do with fire safety and calling 911.
For our two lower-level classes, I had to provide translators in order to ensure clear understanding of this important information.  Thankfully, I was able to find the right people for all the major language groups.  The presenters deftly maneuvered talking then pausing, over and over again, in order to allow the translators to work effectively.
Ms. Braun provided a 911 simulator which looks like a telephone and has a recording of the likely dialog that would be heard from the 911 operator.  It was great for the students to try to answer the dispatcher's questions and listen for instructions.  When one is in a stressful situation, this may not be so easily done – even for a native English speaker!
Deputy Colantonio talked about what to do if one is pulled over by a police officer and also the procedure to follow should one have a traffic accident.  Students had many questions on other matters pertaining to the law that have either been misunderstood or not known.
We strive to give our students practical information about how to live here as responsible citizens.  Part of that is helping them to acquire the language and part of that is providing cultural insight including understanding the law.  The more we show our love and concern for them, the more likely we will have a platform for pointing them to the ultimate need they have in their lives – knowledge of Jesus Christ and His relevance to every person, whether born here or elsewhere.