As You Walk Along the Way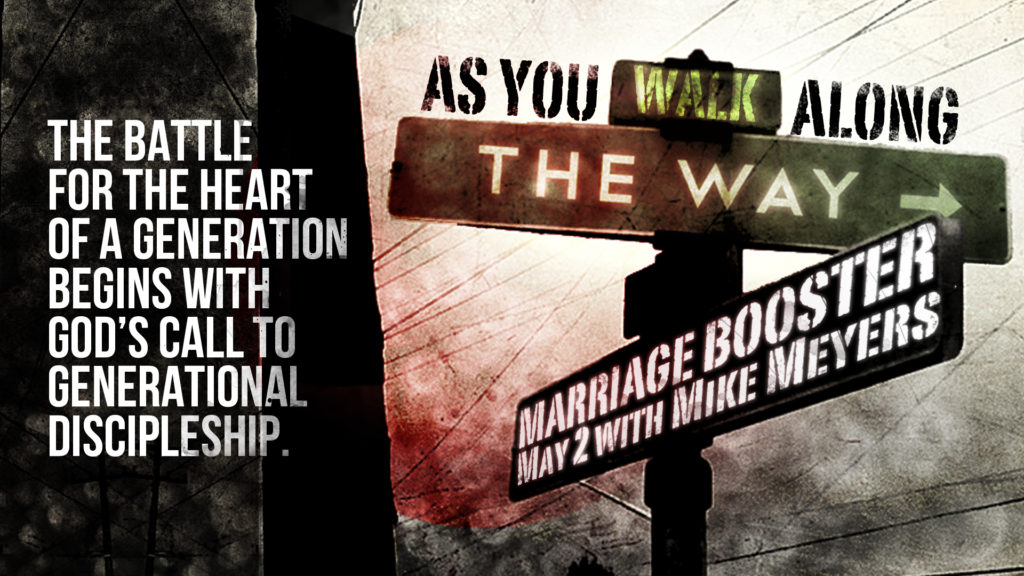 On May 2, RBC held a Marriage Booster event featuring Mike Meyers, our Director of Children's Ministry and the president of Open Arms Worldwide.  If you missed the event or would like a refresher, you can listen to the audio here. Below is an outline from Mike from his teaching.
The greatest battle that the church family currently faces is the knock-down drag-out fight with Satan over the hearts of the next generation. Raising a generation that knows Christ and makes him known will be the greatest gift & legacy we leave for the world.
Key Verse:
"Love the Lord your God with all your heart and with all your soul and with all your strength. 6 These commandments that I give you today are to be on your hearts. 7 Impress them on your children. Talk about them when you sit at home and when you walk along the road, when you lie down and when you get up." Deut. 6:5-7
Considering our passage in its immediate context,
Verse 5 – Preceded by the "greatest command"
Verse 6 – It is a matter of the heart
Notice in Verse 7,
Not a request – The imperative form is used. This is a command.
"Impress them on your children" – Teach them diligently.
Life on life discipleship
7 Principles for Walking Along the Way
Principle #1 – Don't Freak Out – "Concern is healthy; panic kills."
Take the long view because God is writing a story in the life of your child. It's a movie not a snapshot.
Principle #2 – Be Real
Walking along the way means not being a pretender. You may fool a very young child for a little while, but they will find you out it will shake their faith to its core.
Principle #3 – More lens, less shield
Spend more time giving our children the proper lens through which to see this world, and less time sheltering them from it. If we don't someone else will.
Principle #4 – Enter their world – Jesus entered ours (Phil. 2:5-7)
Make it a point to know the young person you are walking with.
Principle #5 – The target is the Savior, not behavior – Adjust your aim
Lead them to the gospel (Romans 3:23, 6:23)
Principle #6 – Be joyful
"I have no greater joy than to hear that my children are walking in the truth." 3 John 1:4
Principle #7 – No excuses
Excuses may be valid, but they will be overcome when generational discipleship becomes a priority.
I hope that you found something here to challenge you and to encourage you to take seriously God's call to generational discipleship and ask yourself the question, "What legacy are we leaving?" "Will we be mentioned in anyone's story of faith?"
Questions for further discussion:
If I could be remembered by my children or grandchildren for only one thing it would be…
If you looked back at your life using Mike's metaphor of the "snapshot" what period of your life might have given the adults around you reason to despair? How has God used that time period in the broader narrative of your life?
Have you ever thought about your relationship with the children in your life as one of teacher-disciple? Why/why not? How might this perspective change the way you parent or engage with young people close to you?
Did you ever view your relationship with your parents as one of disciple to teacher?  Why or why not?
In what ways does the teacher-disciple relationship change as children grow up and in what ways does it stay the same?
How are you, or could you be, living out God's command to "walk along the way" with the next generation?