TRAIL GUIDE: Your Father Knows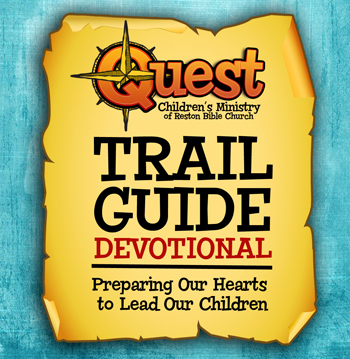 The "Trail Guide" devotional is used by our adult leaders of grade school groups in Quest as a way to prepare their hearts and minds for the topics we will be covering with the children on the weekend.  We have made them available here to help our parents of grade-schoolers engage with their children around the topics we are discussing and also for anyone else that might be blessed by following along.
FIVE BY FIVE*, LESSON 1: God answers prayer.
Smart phones, satellite phones, Skype, Facebook, Twitter, text messages, LinkedIn… and on it goes.  We live in the most communicative era of human history.  We will go to great lengths to facilitate quick, clear, on-demand communication with whomever, whenever we want.  And when we lose connectivity?  Look out.  We want faster and clearer communication every day and we won't tolerate downtime or poor connections.  The demand has created a telecommunications industry valued in the trillions of dollars worldwide.
With our insatiable appetite for communications, why is it that when we address prayer, communicating with our God, we have so much trouble?  There are books, seminars, systems, and campaigns, and yet we struggle both in theory and in practice when it comes to communicating in prayer with our Lord.  Maybe it is because we don't know how it works.  Of course, for most of us, the same could be said about our smartphones – but that doesn't stop us from using up the minutes like there's no tomorrow.
I think it is more likely that we struggle because, in our heart of hearts, we are depending on ourselves and our gifts and talents to carry us through.  But this is an illusion, for when we stop and recognize the truth, in light of God's Word (Romans 12:6, Deut. 8:18), it is God who gives us those abilities in the first place.  "In Him we live and breathe and have our being," so we are in utter, constant dependency on God for everything, no matter how great or small, whether we recognize it or not.  Prayer is our recognition of that dependency, an expression of our trust in Him, and a key to unlocking God's transformative power in our daily lives through close fellowship with Him.  It is how we can, "with unveiled faces contemplate the Lord's glory" (2 Corinthians 3:18) and be changed forever.  God's Word is clear.  Our God is a prayer-hearing, and prayer-answering God – a wonder-working God!
…Your Father knows what you need… -Matthew 6:8b

MEDITATING ON THE WORD:
2 Chronicles 7:14
Matthew 6:5-15
Matthew 7:7-12
Hebrews 4:16
*What does "5 by 5" mean?  In spoken communication over two-way radios, a transmitting station may request a report on the quality of signal they are broadcasting. "Five by five" means a signal that has excellent strength and perfect clarity — the most understandable signal possible.