Generosity & The Next Generation Project
This fall, the leadership of Reston Bible Church will introduce what we are calling The Next Generation Project.
We have rejoiced at great blessings from God since moving into our new church home two years ago. Since our relocation, we have seen our church family grow, and with it, our ability to know Christ and make Him known locally and globally. We are deeply thankful to God for this wonderful season of growth and momentum.
Our church is a family, and like most families, we have a mortgage on our home.  This is no surprise and was part of the plan when we built this campus. A major portion of The Next Generation Project is purposed to aggressively reduce our church's mortgage balance. We are in excellent financial condition, thanks be to God. But In this season of growth, it is our desire to proactively move forward and invest our finances in ministry, while unhindered by a mortgage balance. Simply put, the sooner we reduce the balance on that mortgage, the less we'll spend on interest and thus the more we can invest in our current ministries and in new ministry opportunities.
In preparation for The Next Generation Project, the leadership is asking every adult in the church to read an excellent little book written by Gordon MacDonald called Generosity: Moving Toward Life That is Truly Life. It is biblical and very helpful. We pray you will take time to read Generosity, pray for our church as we move into The Next Generation Project and consider what your part might be in that.
– – –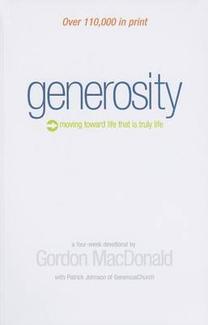 Generosity is available for download on Apple iBooks and on Amazon Kindle.
[UPDATE: Previously, we had mentioned that Generosity was available for free on Apple iBOOKS and 99¢ on Amazon Kindle.   It has come to our attention that the download is still available; however, there is now a $3.99 charge. If you would like to proceed with the download for $3.99, please follow the steps below.]
On September 16, we will also have hard copies available at the Welcome Desk during weekend services.
To download a copy of the book on Apple iBOOKS:
» Access the iBooks app on your device and tap the STORE button at the top of the screen. (Don't have iBooks? It is available for both iPhone and iPad – you can get it here.)
» Enter "Gordon MacDonald Generosity" in the search bar.
» Select the Generosity entry and then tap the FREE button.
» Enter your Apple ID password to begin downloading.
To download a copy for 99¢ Amazon Kindle:
» Click here for the Kindle edition on amazon.com. (If you have problems with the link, go to www.amazon.com and search for "Gordon MacDonald Generosity" using the search bar and click the KINDLE EDITION link in the search results.)
» Select which device you would like to have the book delivered to from the "Deliver to" dropdown menu.
» Click the "BUY NOW WITH 1-CLICK" button. The book will be available immediately on your Kindle device or on the Kindle Reader app, if you have one installed on a compatible smartphone or tablet.

(We are happy to reimburse you for the $3.99 cost of downloading Generosity.   There will be a table available at the Ministry Fair this Sunday, September 16th, where you can submit a request for reimbursement.   If you are not able to make your request this Sunday, please email Barb Ruffner at barbruffner@restonbible.org for a copy of the reimbursement form.   All requests for reimbursement must be submitted by Monday, October 1,2012.)