"Unlikely Fighter" – Sermon and Evangelism Training
March 20, 2022
Reston Bible Church
Ministry: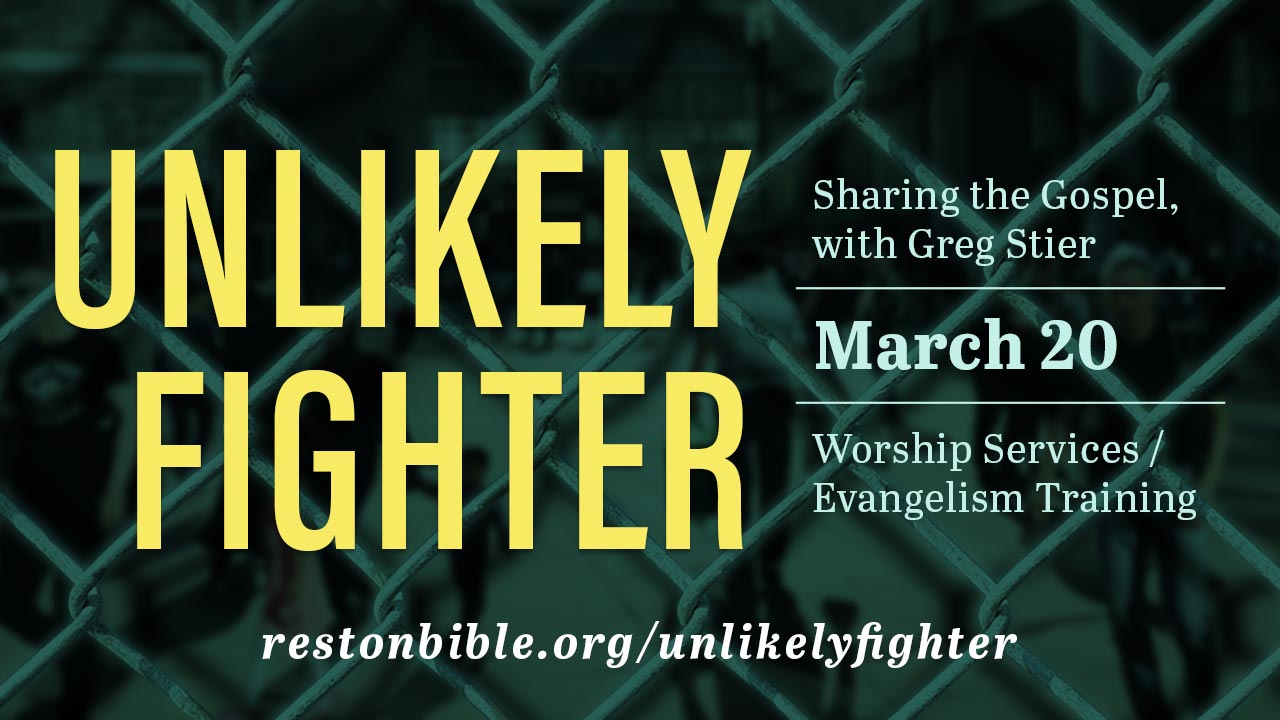 Do you want to know how to better present the Gospel to those around you?
On Sunday, March 20, Greg Stier (founder of Dare 2 Share ministries) will be speaking to the RBC congregation at both services. He will be talking about the "Unlikely Fighter" as he speaks about how to reach those God has put around you with the love and gospel of Christ. Greg will then be leading a training session for those who want to learn how to better share the gospel with others. After the training, we will they take what we have learned and take it to the streets, to talk with those we meet.
The training session will begin shortly after the second service, in the Youth Building. We will provide lunch, have our training session, and then depart to the location where we will be sharing. We will pull together when we are done at the site we are going to debrief and see how God worked in our conversations. We will finish up about 5:30 p.m. The training will cost $15, which includes lunch and a copy of the book.
Register for the training
About Greg Stier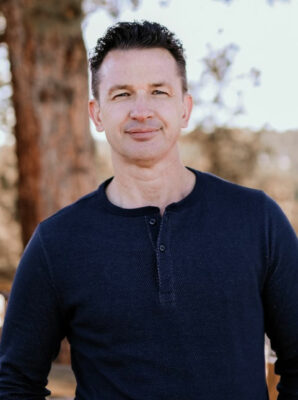 Greg Stier is a champion for unleashing this generation with the Gospel. As the founder of Dare 2 Share Ministries, he is driven to help the Church activate Christian teenagers to reach their friends. In the last 30 years, Greg has trained millions of youth leaders and students how to relationally engage their world with the Good News of Jesus. A much sought-after speaker, Greg is a former pastor, church planter, youth leader, as well as the author of numerous books, including his latest, Unlikely Fighter: The Story of How a Fatherless Street Kid Overcame Violence, Chaos, and Confusion to Become a Radical Christ Follower.
About Unlikely Fighter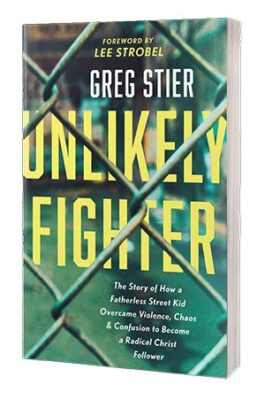 Some memories are permanently seared into our childhood brains with a hot iron of adrenaline and fear. For five-year-old Greg, it was the memory of his ma walking back to the house after confronting his stepdad with a splintered, bloodied baseball bat in her hand.
Greg Stier was raised in a family of bodybuilding, tobacco-chewing, fist-fighting thugs. He never knew his biological father because his mom had met his dad at a party; she got pregnant, and he left town. Though his mom almost aborted him, in a last-minute twist, Greg's life was spared for so much more.
Unlikely Fighter is the incredible story of how God showed up in Greg's life―and how he can show up in yours as well. This is a memoir of violence and mayhem―and how God can transform everything.