Reston Bible Church Marriage Booster – The Dance
Event Navigation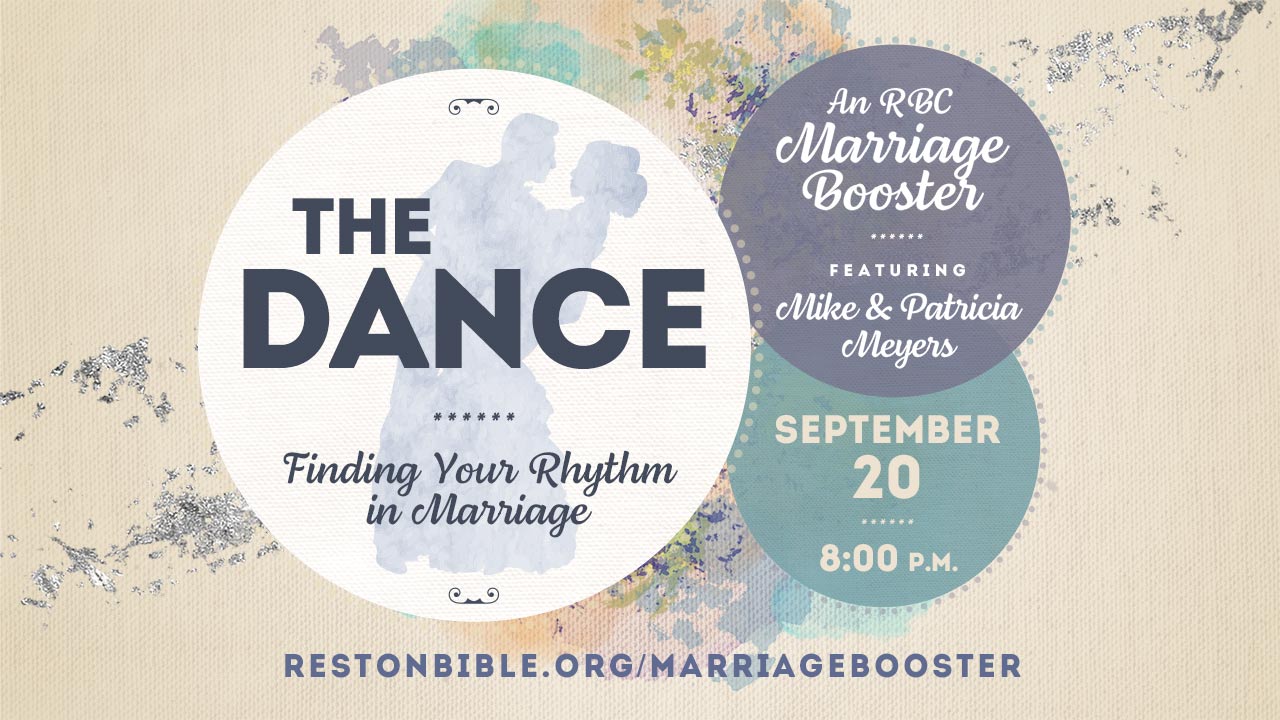 Our September Marriage Booster will feature Mike and Patricia Meyers, speaking on "The Dance."
Whether you've been married for 40 days or 40 years, you have no doubt felt the frustration of being out of step with your spouse.  One of you always seems to be stepping on the other's toes.  You're not sure how, but you always seem to push each other's hot buttons.  You feel misunderstood, not valued, or disrespected. One is doing the Waltz while the other is looking to Merengue.
Perhaps after years of trying, you've grown tired of having two left feet, and, while you haven't left the dance floor entirely, you have decided it is safer to just dance alone.  It isn't meant to be that way.  Join us on Friday, September 20th while we look to the Lord of the dance together and discover how we can find our rhythm in marriage.
About the Speaker
Mike and Patricia Meyers lead the Family Life ministry at Reston Bible Church, and they have been married for almost 25 years. They have three children: Michael (22), Raphael (19), and Gabriela (16). Together they have served in full-time ministry for 16 years, seven of those on the mission field in Brazil. Mike says, "Like the Apostle Paul, we have learned what it is like to have need, and what it is to have plenty, in our marriage. We have stepped on one another's toes plenty over the last 25 years, but we have also learned that, in Christ, we can learn to dance. Like many of you, Patricia and I have had to learn to dance our way through raising children, struggling financially, the stress of being a dual income family, job loss, and nearly marriage ending depression. We may not be Fred & Ginger yet, but the Hope we have keeps us on the dance floor, and we'd love to share that with you."
Invite some friends to join you for a time of learning, encouragement, and rich conversation around your table.
Register Here
This Marriage Booster is brought to you by the RBC HomeFront ministry for couples.
Marriage Booster Schedule
6-7:45 p.m. | Take your date out to dinner
7:45 p.m. | Check-in at RBC
8:00 p.m. | We begin!
The dinner date is an opportunity to plan some time alone with your spouse and go over the questions that will be provided to you in an email the week of the event.
Be sure to join us at RBC after dinner by 7:45 p.m., as the event begins at 8:00 sharp. We will provide light sweets and drinks for you at the church.
Childcare
Childcare reimbursement is provided by RBC as needed. Child care reimbursement forms and information are provided below.
Download Childcare Reimbursement Form