Summer Movie Day
August 5 | 3:00 pm

-

8:30 pm
Reston Bible Church
Ministry:
Event Navigation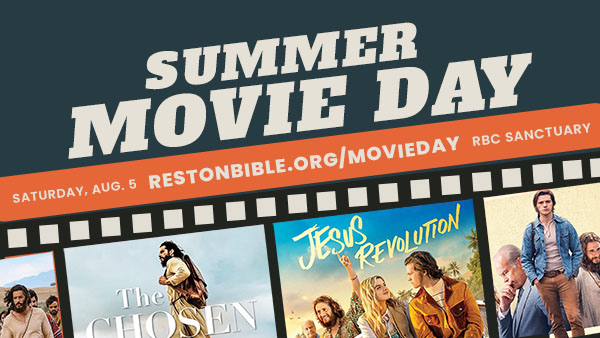 Bring your family and invite your friends and join us at RBC on August 5 for a Movie Day!
We will watch two episodes of the series The Chosen, along with the recent feature film, Jesus Revolution.
Schedule
3:00 p.m. – The Chosen, Season 3 Episode 7 – "Ears to Hear"
Andrew and Philip return from their trip with desperate news: they need Jesus' help to solve a huge crisis in the Decapolis. Jesus leads them on a trip to the dangerous region, where they face opposition from all sides. Literally. Meanwhile, John is assigned to bring an angry Simon to Jesus.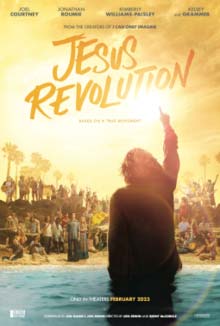 4:20 p.m. – The Chosen, Season 3 Episode 8 – "Sustenance"
Thousands arrive to first argue with, then listen to Jesus as he preaches. Shmuel and Atticus hear what's happening and journey towards the Decapolis to catch Jesus in the act of a possible revolt. Meanwhile, as the preaching extends to the next day, the disciples realize they have a significant problem: the thousands are hungry, and there's no food.
6:30 p.m. – Jesus Revolution
(Limited space for childcare is available for kids 12 and under during the showing of Jesus Revolution. Sign up for childcare here.)
In the 1970s, young Greg Laurie (Joel Courtney) is searching for all the right things in all the wrong places: until he meets Lonnie Frisbee (Jonathan Roumie), a charismatic hippie-street-preacher. Together with Pastor Chuck Smith (Kelsey Grammer), they open the doors of Smith's languishing church to an unexpected revival of radical and newfound love, leading to what TIME Magazine dubbed a JESUS REVOLUTION.