World Missions Seminar
May 1, 2022 | 12:30 pm

-

3:00 pm
Reston Bible Church
Ministry:
Event Navigation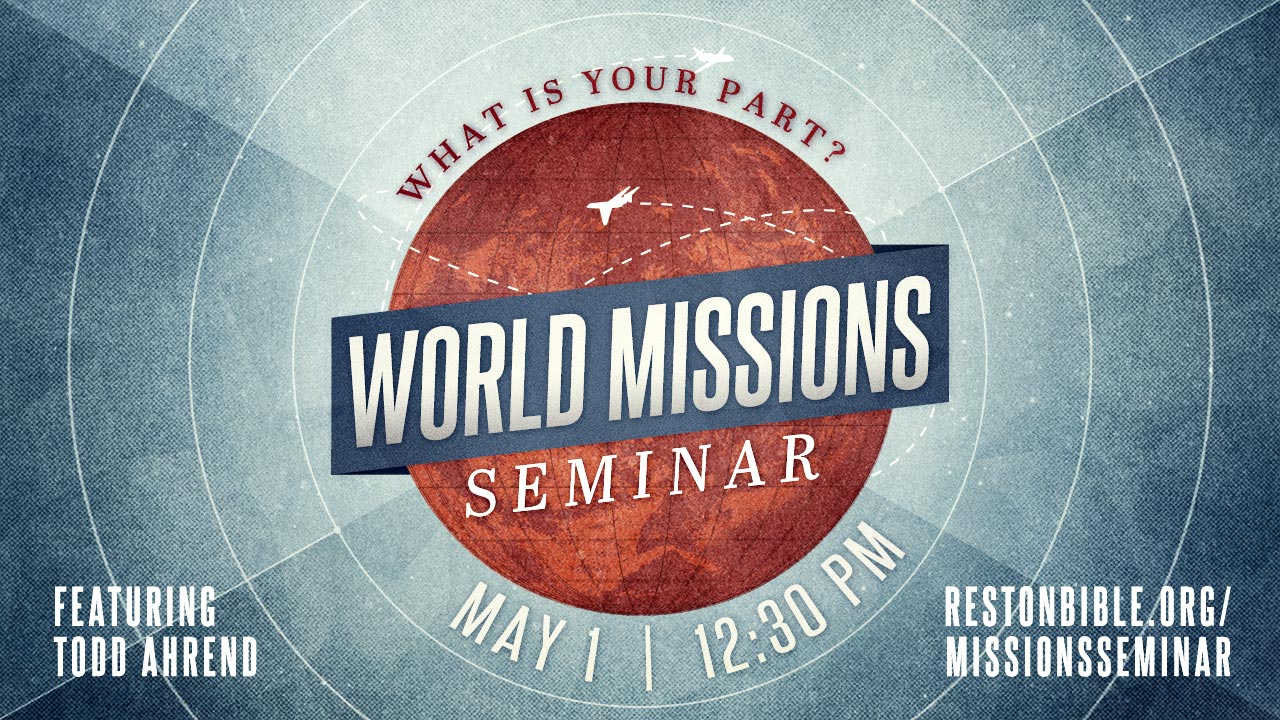 God has a role for each of us to play in reaching the world with the love of Christ. What is your part? Join us to discover your role in His master plan of making disciples of all nations and peoples.
Our speaker, Todd Ahrend, is the founder and international Director of The Traveling Team, a national missions mobilization movement. Todd graduated from Northeastern State University, has a Masters from Dallas Theological Seminary and a Doctorate from Gordon-Conwell Theological Seminary.
He and his wife, Jessica, have spent almost two decades traveling both nation-wide and abroad, speaking to thousands of people about involvement in world evangelization. Todd has exposure in over sixty countries and has lived in the Middle East.
Todd will speak at both morning services, then immediately following the second service we will meet in the Quest Clubhouse.
The seminar, childcare and pizza lunch for adults and children is free of charge but please register below. Childcare is available for ages 0-12. Children ages 12 and older are welcome to attend the seminar.
Register here
Afternoon Schedule
12:30 p.m. | Pizza Lunch
12:45-1:40 p.m. | Session 1: WORLD CHRISTIAN HABITS
See missions as more than overseas work – everyone has a part to play. We will look at ways to be involved daily through praying, giving, mobilizing, and reaching internationals.
Explore the other side of missions. Be equipped with easy application points to live out a world Christian lifestyle.
Come away ready to challenge others to gain a heart for the world.
1:40-1:50 p.m. | Break
1:50-2:45 p.m. | Session 2 SALVATION IN A CHANGING WORLD
Hear the key reasons for the shift from Jesus as the only way to the misconception of Jesus as just a way.
Understand the key thoughts in Pluralism and Inclusivism in order to strengthen our faith in the exclusivity of Jesus for salvation.
Learn principles for strategic interaction with other world religions while staying grounded in the truth of God's Word.
2:45-3:00 p.m. | Q & A