Marriage Booster – Colin Seager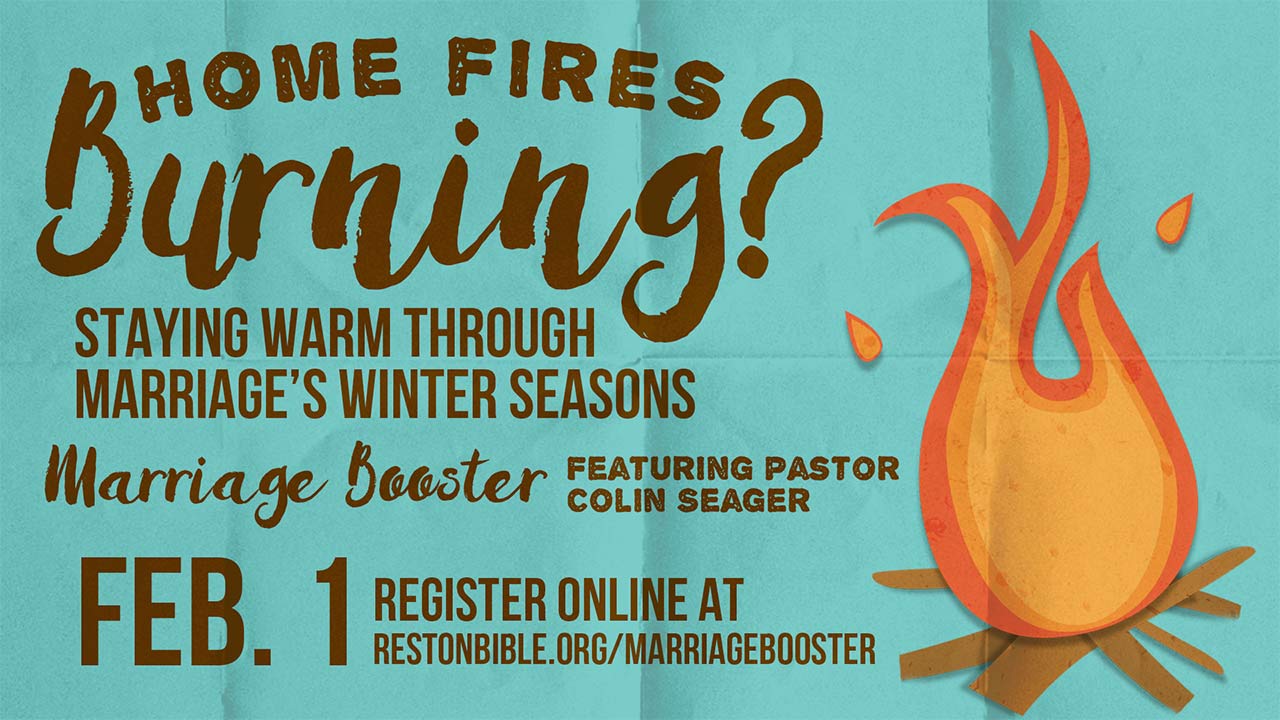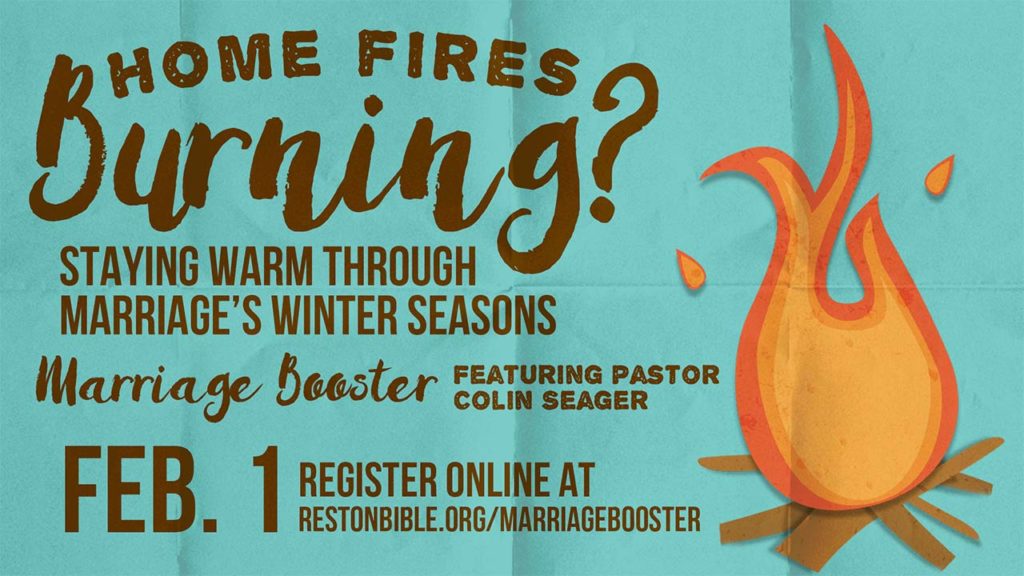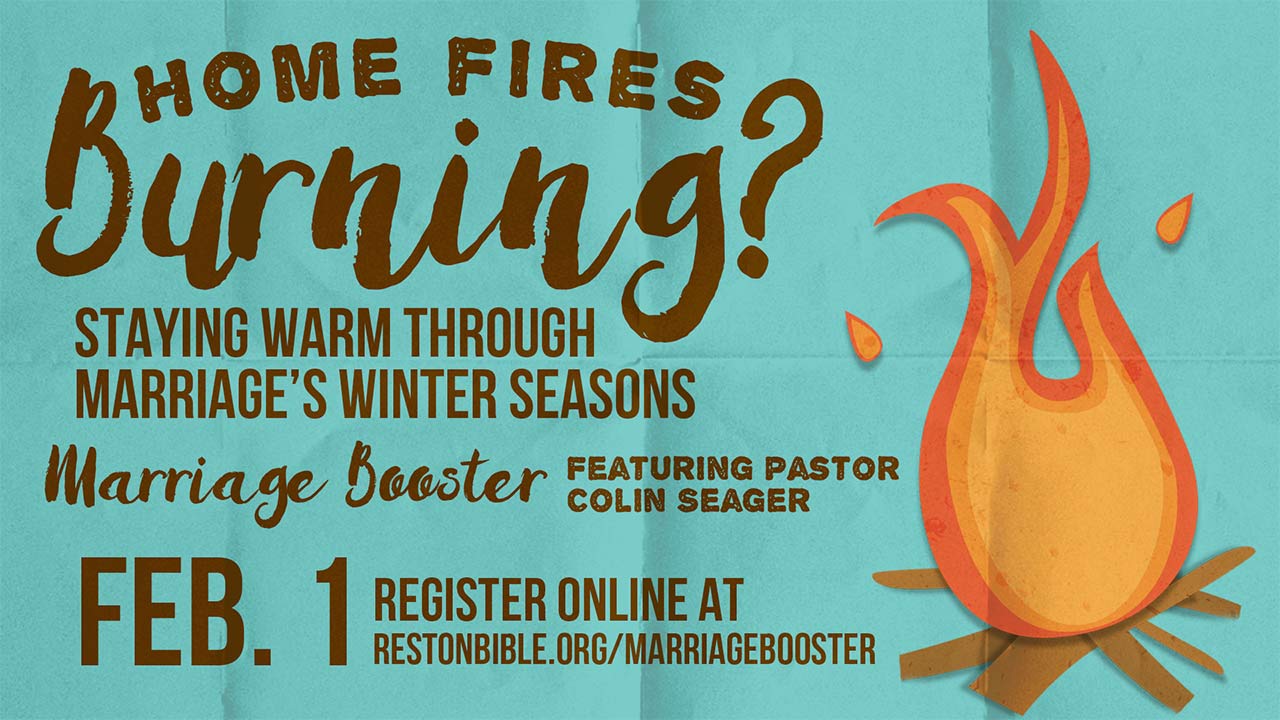 Our February Marriage Booster will feature Colin Seager, pastor of Derwood Bible Church, speaking on "Home Fires Burning?: Staying Warm Through Marriage's Winter Seasons."
Most couples who want out of their marriage will say something along the lines of, "I don't love him/her anymore." Years of distance, hurt, neglect, frustration ultimately gives way to coldness and feelings of I just don't want to be with him/her anymore. Popular culture has done us no favors by defining love as a feeling, versus an action rooted in commitment. But when love has grown cold, is there a way to recoup that feeling and desire?
In Genesis God defines marriage. In Revelation He gives a prescription for reviving it. In Jesus' words to the Ephesian church, He called them on the carpet for losing their first love. His prescription for revival in the church (our vertical relationship) conveys beautifully to our relationship with our spouse (our closest horizontal relationship). He charges them to remember from where they have fallen…repent…and do the things they did before.
About the Speaker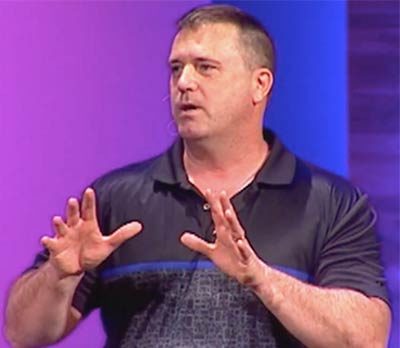 Pastor Colin Seager is the senior pastor of Derwood Bible Church in Maryland. Colin was born and raised in the DC area and met his wife, Christine, while attending George Mason University, where he earned a B.A. in Russian studies and a master's degree in education. Colin also earned a doctor in ministry degree at Liberty Theological Seminary, where he previously earned a master of arts in religion degree and master of divinity degree. Colin has served as a children's pastor (at Reston Bible Church) and a missionary school teacher in Russia, and he was on the staff of Central Union Mission. The Seagers six children are Ashleigh, Katie, Michael, Alyssa, Matthew, and Kaylee. Colin always loves a good game of hoops or ping pong, loves to grill, and will always be a Skins fan!
Invite some friends to join you for a time of learning, encouragement, and rich conversation around your table.
Registration is now closed.
This Marriage Booster is brought to you by the RBC HomeFront ministry for couples.
Marriage Booster Schedule
6-7:45 p.m. | Take your date out to dinner
7:45 p.m. | Check-in at RBC
8:00 p.m. | We begin!
The dinner date is an opportunity to plan some time alone with your spouse and go over the questions that will be provided to you in an email the week of the event.
Be sure to join us at RBC after dinner by 7:45 p.m., as the event begins at 8:00 sharp. We will provide light sweets and drinks for you at the church.
Childcare
Childcare reimbursement is provided by RBC as needed. Child care reimbursement forms and information are provided below.
Download Childcare Reimbursement Form