Marriage Booster – Safe Harbor
February 2 | 8:00 pm

-

9:30 pm
Reston Bible Church
Ministry: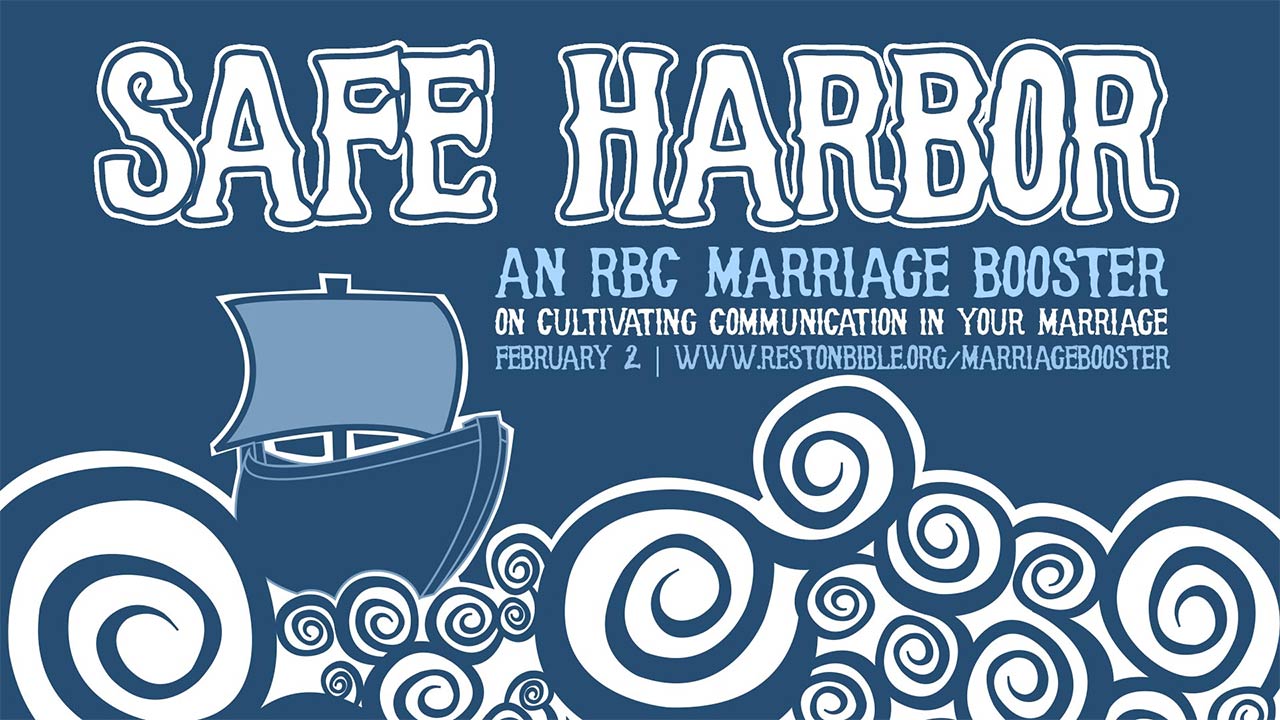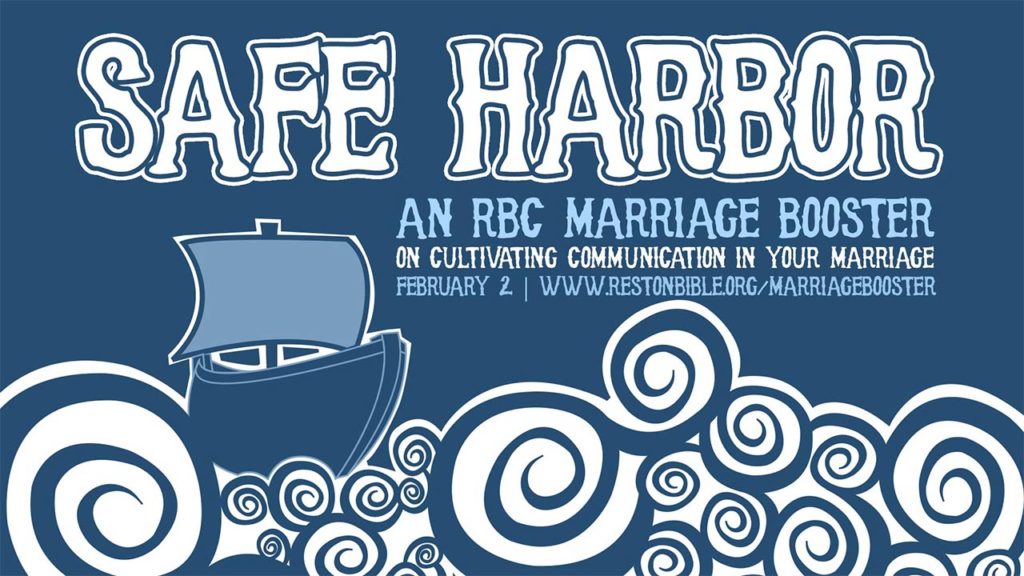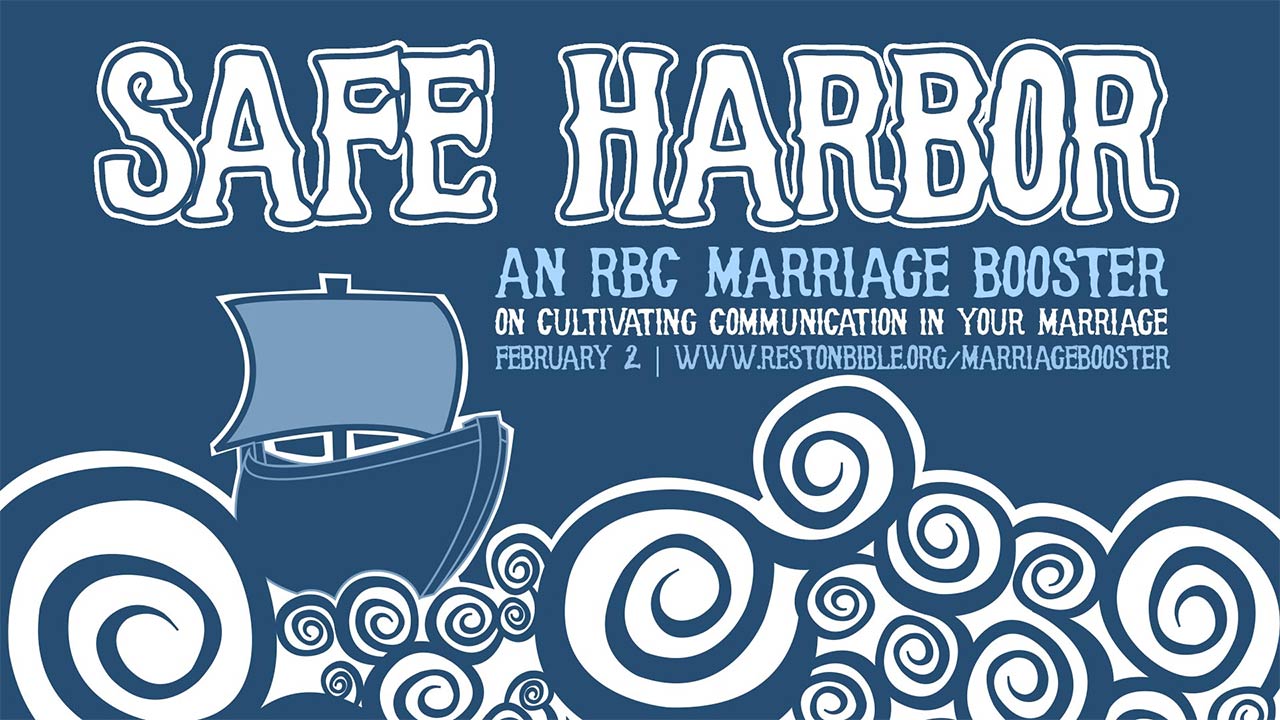 Is your home a safe harbor? A place where hopes, fears, and struggles can be shared without fear?
A place where the ship of your soul can come for repair and resupply? That is the Father's heart for you and yours. Come hear from couples who have fought to develop their marriage and their home as a safe harbor and not a place where fear and judgement shuts down communication.
Our Boosters start with an "on your own" dinner date where we provide discussion questions that will lay the ground work for the message. Come to RBC for light refreshments and check-in. Later on in the night, we also have a table discussion time where you get the chance to talk over questions following the message. It's a great opportunity to hear from others in different stages of marriage.
We are excited to have Mike and Kay Minter, George and Joni Young, and Jason and Katie VanDorsten as panelists for the Booster!
Register for the Marriage Booster below. The event is free, but please be considerate of the setup crew and RSVP by midnight Sunday, January 28.
Register here
About the Speakers
Mike and Kay Minter
Mike grew up in a U. S. Navy family and traveled a lot during those years. He accepted Christ at the age of 26 after graduating from college, while on a European trip with a friend who was with the Fellowship of Christian Athletes. Kay's father was the manager of two Sears stores, one in Brazil and another in Texas. She came to Christ at the age of 16 at a youth event in Florida. Mike and Kay met at Florida Bible College. In 1974, Mike and Kay were called to Northern Virginia to start an evangelical work in this new community. The church started with a Bible study in a home in June of 1974, and had their first service in the Reston Sheraton in March of 1975, with about 25 people. As the church grew, it moved from school to school until a facility was built in Reston in 1984. In 2010, the church moved to Sterling and where it currently has two worship services. Mike and Kay have been married for 44 years with four grown children and six grandchildren and live in Ashburn.
George and Joni Young
George and Joni are a blended family who have been blessed with a total of 7 children. In their previous marriages, they have both suffered the pain of watching their families be broken through divorce. Although it hasn't been easy, they have watched God make beauty from ashes as he united their families. They have been married for 10 years.
Jason and Katie VanDorsten
A native of the backwoods of Kentucky, Jason accepted Christ in high school. Though he had a cultural understanding of Christianity, he did not really understand or experience Jesus as Savior until getting involved with Campus Crusade for Christ at the University of Louisville. Katie came to know Jesus through the Young Life ministry at Oakton High School and deepened her walk with Him throughout college at High Point University. Jason and Katie met while on staff with Campus Crusade for Christ in La Plata, Argentina, where they had both moved after graduating from their respective universities. They moved back to the U.S. in 2003 and were soon married. Jason is on staff at RBC and Katie is a Spanish teacher and at-home mom with their three very energetic children, Caleb, Elizabeth Rose, and Sam.
Marriage Booster Schedule
6-7:45 p.m. | Take your date out to dinner
7:45 p.m. | Check-in at RBC
8:00 p.m. | We begin!
The dinner date is an opportunity to plan some time alone with your spouse and go over the questions that will be provided to you in an email the week of the event.
Be sure to join us at RBC after dinner by 7:45 p.m., as the event begins at 8:00 sharp. We will provide light sweets and drinks for you at the church.
Childcare
Childcare reimbursement is provided by RBC as needed. Child care reimbursement forms and information are provided below.
Download Childcare Reimbursement Form