There will be no Sr. High Shepherd Groups tonight (September 30).
If you are in high school, join us for fellowship, teaching, and connecting at AmGAP!
The Sr. High Student Ministry is excited to kick-off the 2020-2021 school year of student ministry. Yes, COVID-19 has changed some things, but we are anticipating what God is going to do! Below is our plan and vision:
Teaching and Worship for September:
We will continue to hold a combined Jr. and Sr. High Outdoor Service through the month of September from 10:45-12:00 pm outside of the Youth Building. No prior registration is required (you will need to sign in when you arrive) and masks are not required outside. We are enjoying a time of worshiping, being together and hearing God's Word in His creation! A Zoom option is available for those who are not able to join in person. Please email charlottekimmel@restonbible.org for the Zoom link. Each message will be recorded and posted to the right on this page.

Engage Elective Courses
Beginning in October, the youth team will offer a variety of "Engage" elective courses on Sunday Mornings. These 4-week courses are open to both Jr. and Sr. High students, and are designed to help students dig deeper into a topic of their interest. For a list of the upcoming courses, details, and to register, please click here.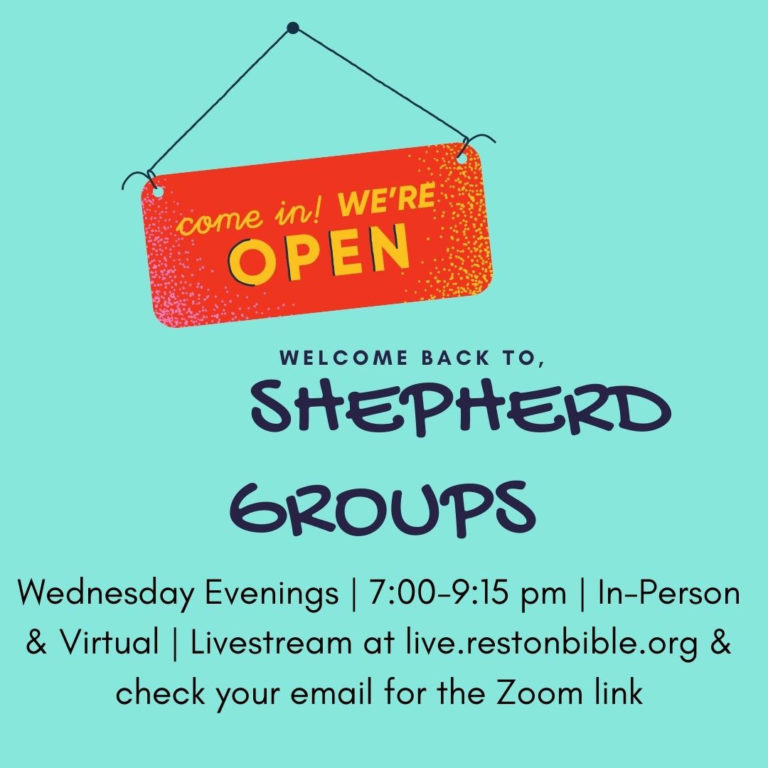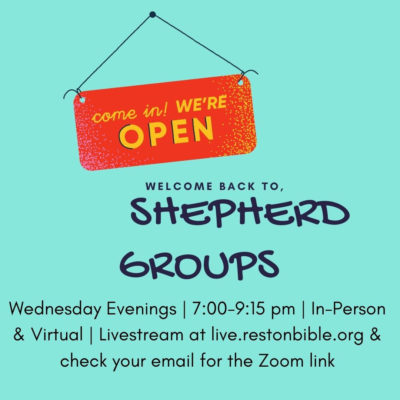 An exciting change in the Sr. High:
Wednesday evenings will become our main gathering time and will combine teaching from God's Word and Shepherd Groups.
Here are the details:
Senior High Shepherd Groups will resume Wednesday, September 9, from 7:00-9:15 p.m. both at RBC and Virtually. PLEASE watch the below video and read the below information to know how the Lord has led us to best lead and shepherd students and families at RBC.
1) Our Shepherd's Heart and Vision: The video below explains our Youth Ministry's heart for groups this Fall. We encourage all parents and students to watch it.
2) Location: The Senior High will first meet for an initial time (7:00-7:15 p.m.) of community building outdoors near the main front doors of RBC. We will then begin inside the main RBC sanctuary for a time of worship, testimony, teachings, upfront activities and more. Each Wednesday night will have small group discussion from 8:00-9:15 pm outside weather permitting. If it rains or is too cold small groups will meet inside around the RBC main building in rooms/areas that allow each group to social distance with masks. We will be outside in cooler than typical weather, so please dress accordingly.
3) Masks: Face masks are required inside RBC. We will have extra disposable masks, but students are encouraged to bring one.
4) Registration: A one-time registration is required for all students. When you register, you may select in-person, virtual, or hybrid attendance. Registering will help us plan according on varying levels.
Register here
5) Virtual Groups: If you select virtual or hybrid groups during registration, you will receive instructions for how to connect virtually. Our goal is to keep students in their same groups, not create separate groups of just virtual students.
If you have additional questions about Small Groups or the safety precautions followed, please contact leebanton@restonbible.org.
Sunday Mornings Starting in October: We will be sharing what Sunday mornings will look like in the near future.
The Sr. High will begin other monthly events starting in September. Check this web page and your email for updates.
If you are in high school, join us for fellowship, teaching, and connecting at AmGAP!
We meet at 10:30 a.m. on Sunday mornings in the RBC Youth Building.