All Men's Meeting
January 12, 2019 | 8:00 am

-

11:45 am
Reston Bible Church
Ministry: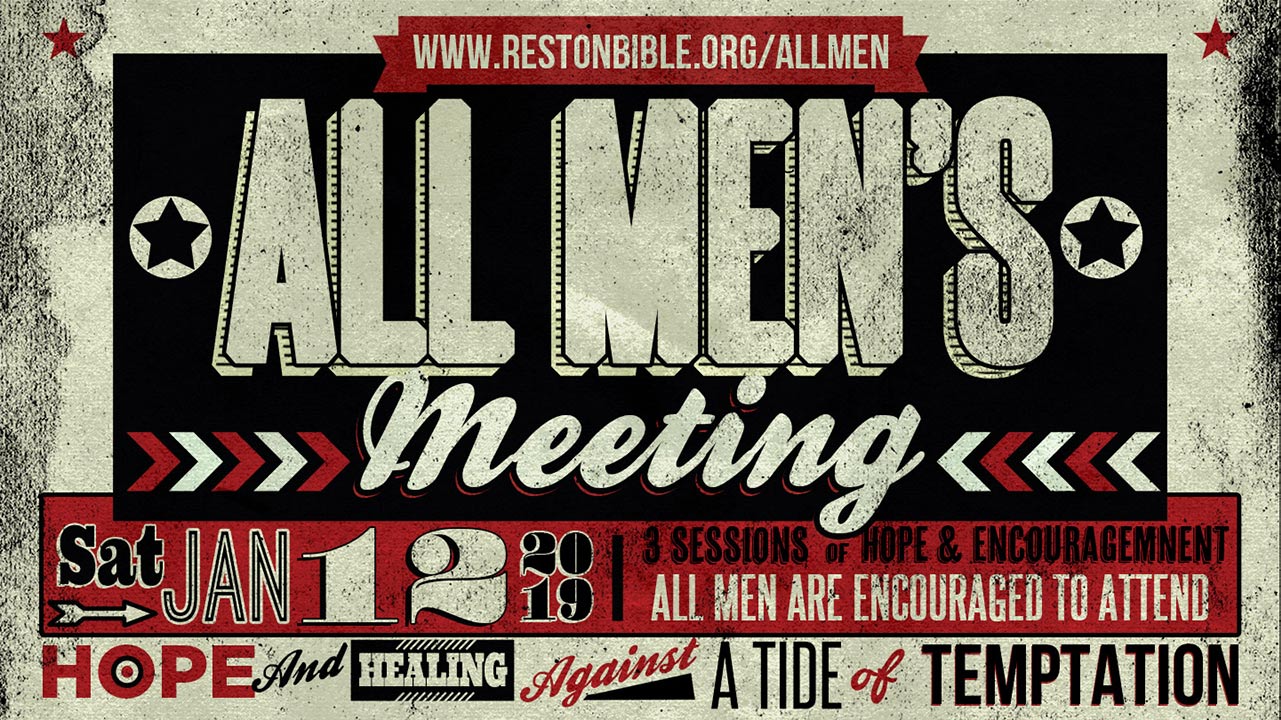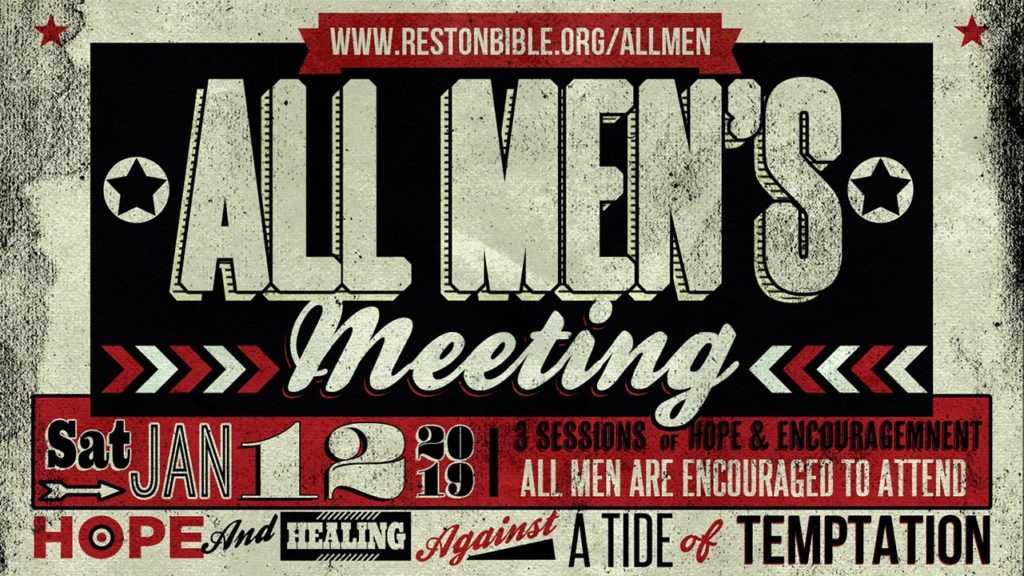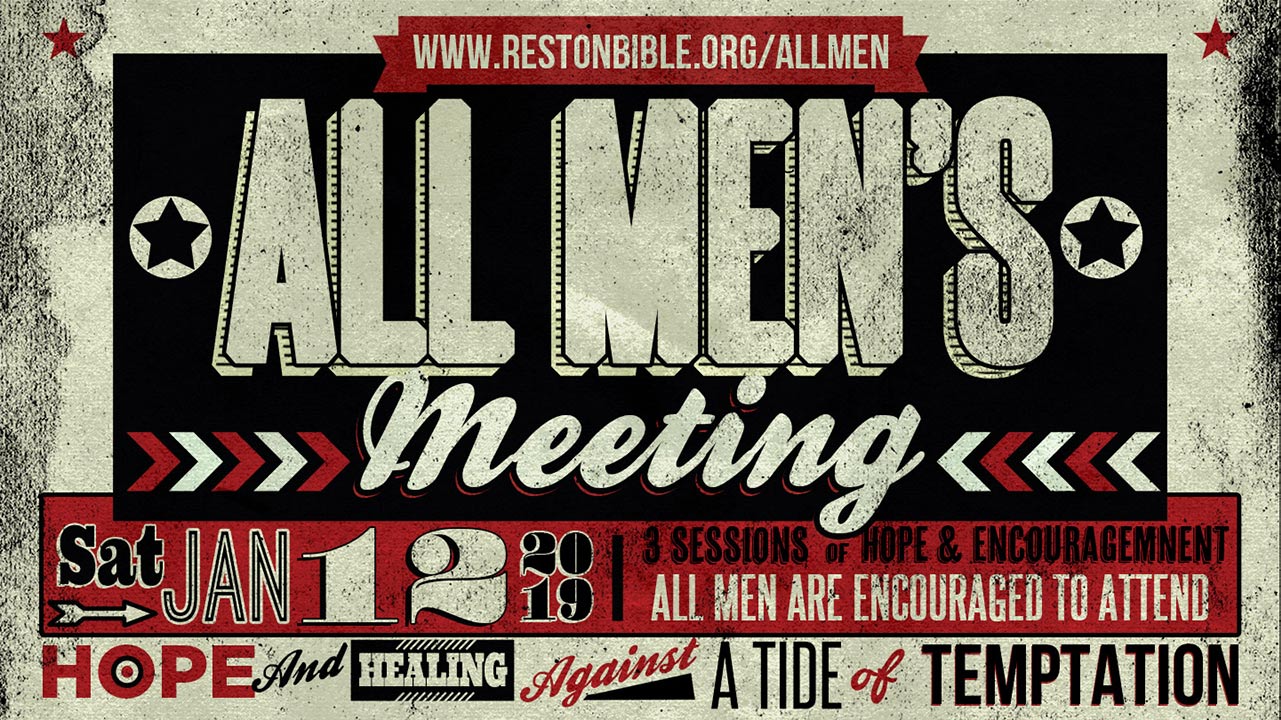 All men and young men of RBC (Jr. High and up) are encouraged to join us January 12, 2019 for a time of hope and healing against the tide of temptation.

Why We Desire Every Man to Attend the All Men's Meeting (8:00 a.m. – 11:45 a.m., January 12):

Because of a few young ears in the main services every Sunday, the up-front announcements have lacked blunt clarity. At this important all-hands-on-deck gathering, we will address as men the topics of moral & sexual purity and pornography. While the morning of January 12 will reach beyond these topics, one of the main goals is to provide fresh hope, healing and a pathway to freedom for all men of RBC, regardless of your level of struggle in these areas.  We want the chains of sexual addictions and pornography to be broken in order that the name of our LORD Jesus Christ may be glorified in us and the good pleasure of His will fulfilled through us.
To Those of You Who Feel Trapped:

No one will be asked to publicly admit anything. No one will be outed or embarrassed. In spite of failing again and again, you will hear why there is hope and a practical pathway for experiencing freedom from sexual sin and addictions.
To Those of You Who Dabble or Occasionally Binge:

While we rejoice that pornography has not yet gripped you to where it is a frequent practice in your life, seeking freedom from these rare occasions is important. It is wise to remove all risk now in order to avoid the inevitability of emotional damage to your marriage and family and the spiritual callousing of your own soul. Ephesians 5:3 tells us, "But sexual immorality and all impurity or covetousness must not even be named among you, as is proper among saints." Why? Read Ephesians 5:1-2.
To Those of You Experiencing the Freedom of Christ:

Your presence is vital because your example, words and experience offer hope to others. Additionally, there is information that will aid you in advising and helping others within Christ's church and outside as well. The strongholds of addiction are only deepening in our society, and many are giving up on the battle for purity. Love for others should compel you to attend. Lastly, we know how little it would take for us to yield to fleshly temptations: "Let those who think they stand take heed lest they fall."

What About My Wife & Daughters?

Tools and approaches for their freedom or healing from the hurt we cause them are being considered. They will not be forgotten in this process.
Will You Be Asking Me to Go Home Saturday and Reveal My Struggles?

No. Future guidance will be given on this specific subject. The Sunday message on January 13 and a message to all women that we will post on the RBC website will impact this important and delicate step.
Further Context as We Consider the Struggles of Pornography and Sexual Purity:
The true church of Jesus Christ has been praying and addressing the increasing sexual moral failures of genuine believers within the body of Christ for decades. The spreading embrace of the "hook-up" culture, "friends with benefits," and the private easy access to pornography of every fantasy has contributed to devastating patterns of sexual addiction. The resulting guilt, shame, fear, hopelessness, breach of trust, pretense and broken relationships severely weakens too many saints. Fellowship with the Holy Spirit is broken, worship postponed, and joy and desire to spread the Gospel of Jesus Christ and engage in the "one another" teachings of the Scriptures is far too often neutralized.
The high statistical casualties among Christ's people are hard to believe, until you speak with men and women from 13 to 40 years of age. While predominate in that age range, there are plenty of people over 40 who consistently dabble and yield to moral and sexual temptation. Many secretly remain severely addicted.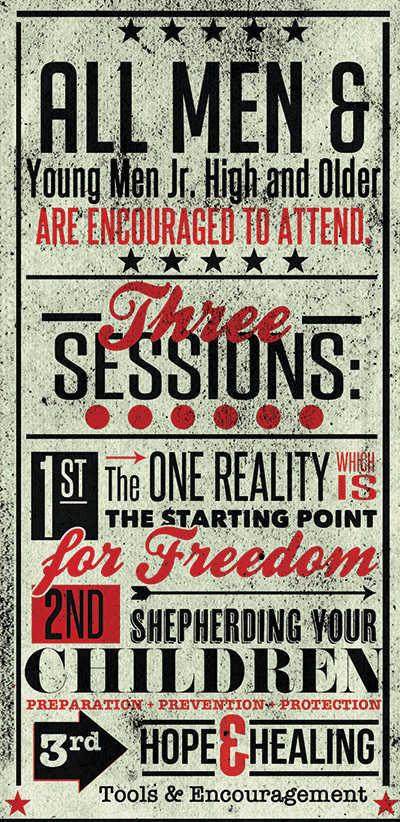 Good books are available for healing. Yearly sermons are given. Counselors and pastors are trained. Weekend seminars and small groups are utilized. These are good and useful. People are being helped. There is hope. There are pathways to freedom. We can praise the LORD Jesus for His work resulting in many, many testimonies that abound in people becoming free from sexual addiction and moral impurity. "Whenever sin abounds, God's grace much more abounds."  However, in almost every large congregation like ours, the pace is far too slow and the victories far too few.  Too much spiritual ground is being lost. Take a stand with us and join us on Saturday morning, January 12.
What Will Happen at the All Men's Meeting?
The meeting will begin at 8:00 a.m. and go until 11:45 a.m. It will consist largely of 3 teaching sessions, outlined below:
Session 1: THE STARTING POINT – Pastor Mike Minter will walk us through how understanding one singular reality is the starting point for freedom.
Session 2: FATHERS AND CHILDREN – This session will focus on helping fathers shepherd their children through preparation, prevention & protection. Specifics include, what to do and teach before children are exposed, what to do when children are exposed (someday, they all will be) and how to minister to your children in their struggles.
Session 3 : A PATHWAY TO FREEDOM – This session will emphasize hope and healing building on Pastor Minter's first session. It will include the introduction of a strategic "tool" used by over 750,000 men that helped them find freedom. We will also hear from a panel of RBC men, who together advanced in their practical purity.