AS YOU SCROLL DOWN THIS WEB PAGE YOU WILL FIND THE FOLLOWING:
All known candidates running for each office by party affiliation or as an independent.
Each House of Delegates and State Senate candidates general pro-life/pro-abortion position.
School board candidate information and related issues on:

Harmful books exposing children to sexually explicit and obscene materials without parental permission.
LCPS now incorporating materials into K-12 English and Language Arts classrooms that teach the following ideas: that children can be "born in the wrong body; that sexual identity is fluid; that biological sex is meaningless; and/or that it is normal for children to consent to and enjoy sexual activity before marriage.
The lie that "there is a huge, systemic, race problem in the school system and county" linked to present day "White Supremacy."

Link on why John Flannery, Democrat running for Soil & Water Conservation Director, believes fellow Democrat Michelle Thomas should never be elected to any public office.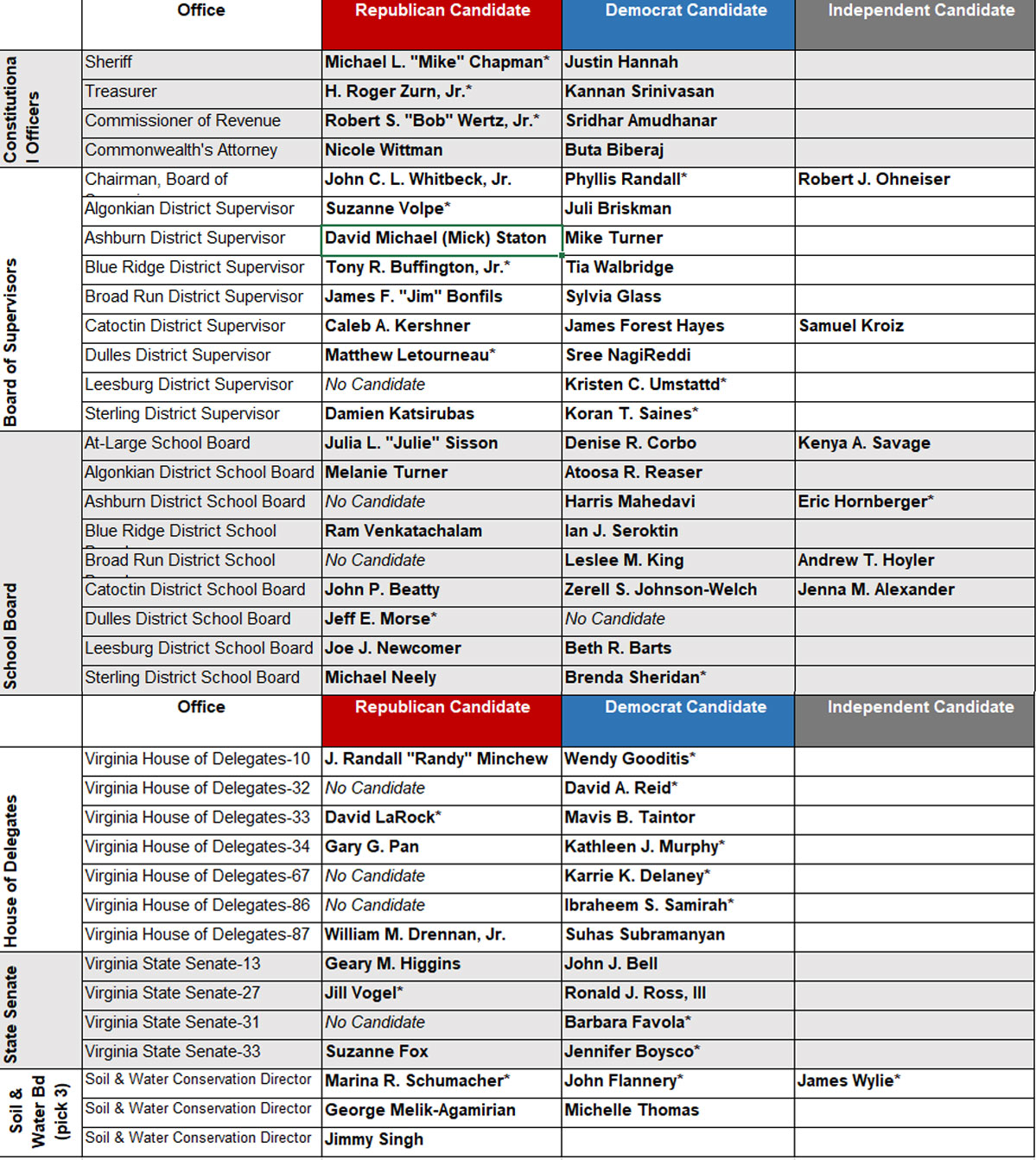 School Board related
Information that follows, while limited, addresses critical issues listed at the top of this web page.
Only 3 of the previous 9 school board members are running for re-election.  This provides a tremendous opportunity for the philosophy of the school board to be altered.  While the school board does not have responsibility or control over the day to day operations, they do have authority to change policies and to keep or replace the Superintendent.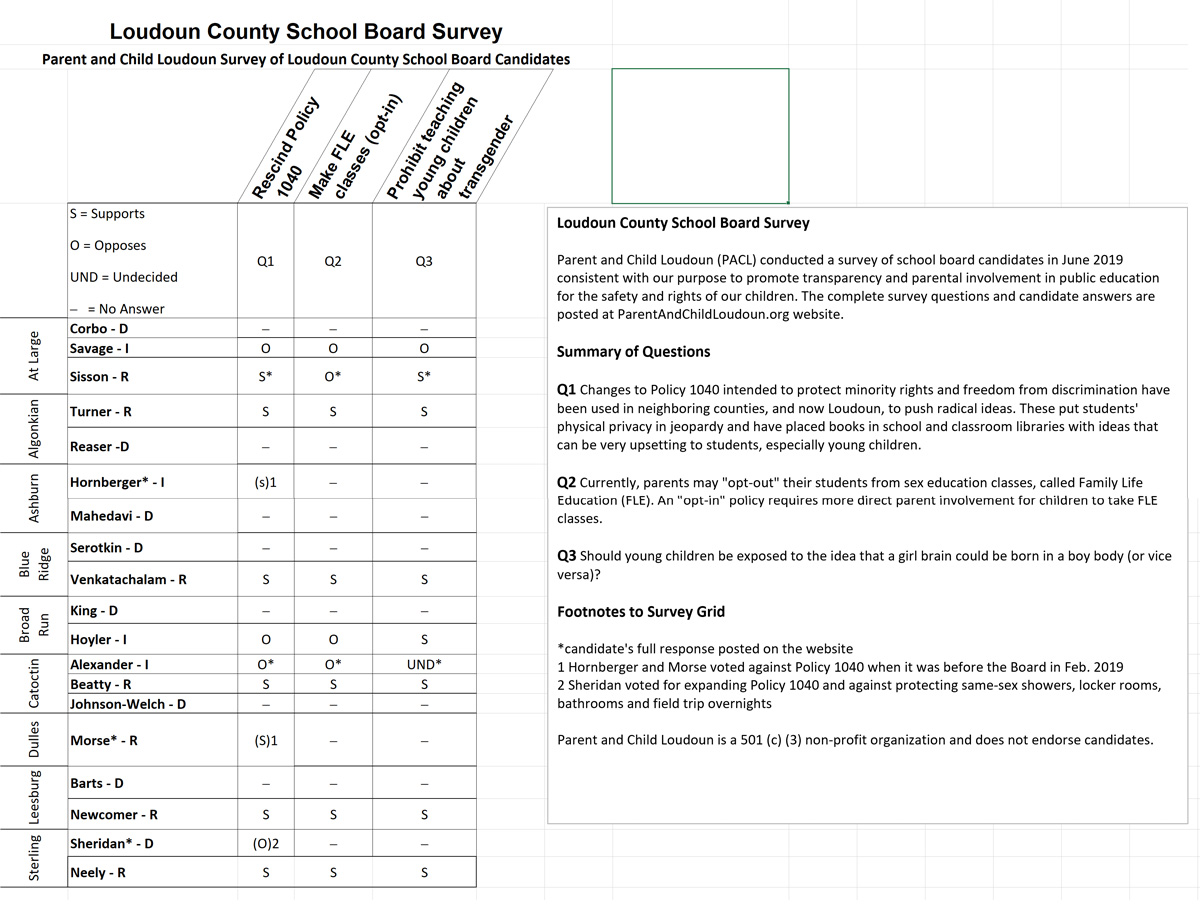 Regarding harmful books in classrooms
The following are a few links or emails about summarizing the matter.
Email from Lisa Sinclair
Subject: URGENT: Please read about harmful books in our classrooms
Hi Family & Friends,
An email went out this week to Loudoun County Public School parents about a diverse text collections that will be added for all K-12 English Language Arts classrooms. The email states:  In describing the texts the Division of Teaching and Learning, Elementary and Secondary Reading, noted that, "Classroom and school libraries reflect our values and contribute to developing student identities; therefore, our collections must reflect and honor our student population and those around them. Access to books in the home, school, and classroom has a strong correlation with reading proficiency.  Students who read more also have stronger vocabulary, background knowledge, and empathy."  Classroom libraries complement our robust school libraries.
While the email was vague it was determined with further research that many of the books have sexually explicit and obscene materials in school libraries and school classrooms that are within easy and full access of minor children without parental permission. In addition, LCPS is now incorporating materials into K-12 English and Language Arts classrooms that teach the following ideas: that children can be "born in the wrong body;" that to be a girl is to be attracted to boys and to like pink and wearing dresses, make-up and high heels, etc.; that sexual identity is fluid; that biological sex is meaningless; and/or that it is normal for children to consent to and enjoy sexual activity before marriage.
Loudoun County Public Schools have a responsibility to maintain NEUTRALITY towards religious beliefs, and therefore should not impose ideologies onto children such as secular humanism and Queer Theory as the "right" underlying foundational beliefs for sexual morals because this is openly hostile to many religious beliefs and cultural traditions. It puts the school in conflict with students', parents and clergy which only serves to destroy parental and community trust in the public schools.
If you would like further details I am happy to send you the list of LGBQT books and images/text that have been taken from some of the materials being circulated (it is very obscene and pornographic in nature and is promoting sexual acts at a young age).
To see a list of the books they are placing in classrooms and libraries the full list is available on the LCPS website:   https://www.lcps.org/Page/221803
Please forward to family and friends to get the word out.  And please PRAY for our school system.  A school board meeting will take place on September 24th where a large group of concerned parents will be attending. I plan to be there in support of removing these materials from our schools.  Another way you can help is vote on November 5th for school board members who will uphold our family values.  Thank you for keeping our children safe!!
God bless!!
Lisa Sinclair, REALTOR
Summary from an RBC pastor who attended the school board meeting on this subject
Thanks for praying for the meeting last night. It was intense. Over 100 people addressed the board with one minute each. Those who spoke were overwhelmingly (75%+) on the side of removing sexually explicit material from the classrooms. Several excerpts were read and they were shocking – books for those as young as 6th grade. Parents were clear that the schools are to educate not indoctrinate moral standards or sexualize our children. The side in favor of the "diversity books" kept siting the same notion that LGBTQ people need to read literature with people "who are just like them." They missed the point. No one was essentially speaking out against LGBTQ characters in books. The protest is against obscenity in books in a county that holds to an abstinence based approach to Family Life Education. Dr. Williams was forced to acknowledged that all (The board, teachers, and parents) were caught off guard and did not know these books were coming. The actual discussion by the board on the matter had not made it to the floor by 10:30 p.m. and I do not know as yet what their discussion involved.
Regarding Loudoun County, NEA & Dr. Williams and White Supremacy
NEA policy is:  "Educators must acknowledge the existence of White supremacy culture as a primary root cause of institutional racism, structural racism, and White privilege…the Association will actively advocate for social and educational strategies fostering the eradication of institutional racism and White privilege perpetuated by White supremacy culture."
The following quote appeared in a standard newsletter from the principal of Loudoun County High School.
"LCPS calls for all students, staff, families, and other members of our community to engage in the disruption and dismantling of white supremacy, systemic racism, and hateful language and actions based on race, religion, country of origin, gender identity, sexual orientation, and/or ability. LCPS rejects racist and other hateful behavior and language, recognizing that it encourages discrimination, hatred, oppression, and violence."
Dr. Williams (Superintendent of LCPS)
A very polite and civil conversation with the principal revealed that she is unaware of any systemic White Supremacy or racism in the high school.
Without elaborating here, the NEA policy and Dr. Williams statement is filled with unverified and questionable assumptions that will result in only spreading division and suspicion within the Loudoun County community. If "white supremacy", "systemic racism," and "hateful behavior" were rampant in the county, or among students in public schools, we would join in the efforts to address it.   Certainly there are individuals within our county who say and do racist things and others who demonstrate hateful behavior.  But the incidents and cases are few compared to the total population of students, teachers, and citizens of the county.