Family Quest: Extreme Makeover, Spiritual Edition – Section 1, Lesson 1

LESSON 1: PARALLELS BETWEEN THE FAMILY OF GOD AND OUR EARTHLY FAMILY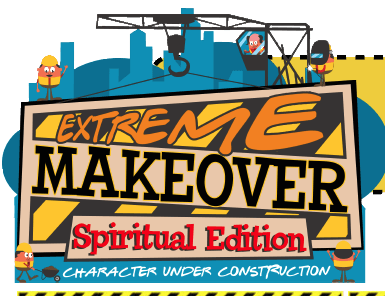 God uses many metaphors (parallels) in the Bible to describe how He relates to us, how He relates to the church, and how we relate to one another. One of these is the metaphor of "God's family." In this picture God is the parent and we the children. Jesus is our brother, and we, the church, saved by grace through faith, are the adopted brothers and sisters in this family (Ephesians 1:5 and Galatians 3:26, John 1:12-13). How does the Father want us to love our family? To answer this question we must first look to how He has loved us and also how the Son, our adopted brother, has loved us. Jesus said, "Love one another. As I have loved you, so you must love one another." It is at the source of divine love that we must begin and end our Quest.
As you prepare your heart and mind for this week's lesson take a fresh look at some of these verses and make mental note of the ways in which our family life parallels our life in God's family. What can we learn about how we relate to God and what insights might we gain about how God views us as His children, through the lens of the human family? We as individuals were created in the image of God. We as families reflect that likeness to an even greater degree.
BIG IDEA: God places us in families.
MEDITATING ON THE WORD:
John 19:25-27
Ephesians 1:5
Malachi 4:5-6
Galatians 3:26
John 1:12-13
1 Timothy 5:4-8
Ephesians 6:1-4
UNIT VERSE:
Love the Lord your God with all your heart and with all your soul and with all your mind and with all your strength. – Mark 12:30
SECTION VERSE:
The Lord is my strength and my shield. My heart trusts in Him, and I am helped. – Psalm 28:7a
DISCUSSION QUESTIONS:
Tell me about your family. How many children? Brothers? Sisters? Grandparents? Cousins?
What relationships do we have in God's family? How is it similar to our earthly family?
PRAYER:
Thank God for the family He has blessed you with.
– – –
ABOUT FAMILY QUEST: At Reston Bible Church, we firmly believe that parents are a child's first and most important spiritual leader.  In order to support you that mission, we have created a parent devotional and some discussion starters to go along with each lesson your grade school age children are learning at Quest on Sundays. Our hope and prayer is that this material will help you to engage with your children around the topics they are learning on Sunday mornings, answer their questions, go deeper with them, and find real, day-to-day applications. We are honored to be able to partner with you in the critical task of sharing Christ with the next generation.